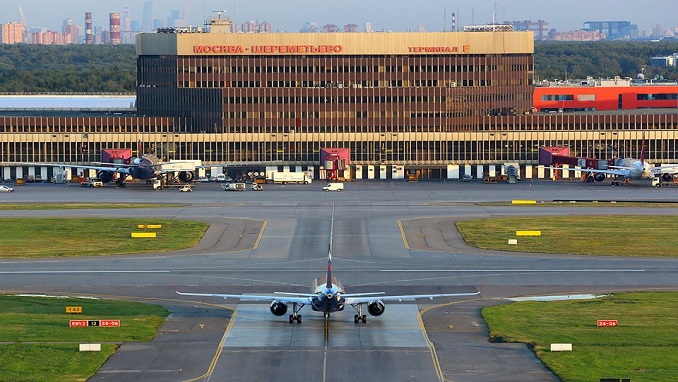 In November, it was reported that Russian carrier Aeroflot would be handing its fleet of Sukhoi Superjets over to subsidiary airline Rossiya. Now, these initial Superjets, when transferred at the end of this year, will be based at Moscow's busiest airport, Sheremetyevo International, Simple Flying reports.
According to Airways Mag, Aeroflot's plan is to transfer its entire Sukhoi Superjet fleet over to Rossiya by 2022. Last week, Aeroflot's board approved the first transfer of Superjets from Aeroflot to several companies. Some of these aircraft will go to Rossiya in the form of a sublease (since they have a single parent), while five will go to a lessor called "PSB Aviaprofleasing LLC." The transfer is part of a larger plan for Aeroflot to pursue "five-star status" as a premium carrier.
Data from Planespotters.net indicates that this consists of 51 existing aircraft and 16 jets yet to be delivered from the United Aircraft Corporation. However, an initial batch of five will be handed over by the end of 2020.
The phasing out of these jets from the Aeroflot airline brand means that Rossiya's fleet will be more than doubled as its current fleet of active jets is listed as 54. Currently, it's smallest aircraft are Airbus A319s and A320s.
The initial batch of five jets will be based out of Moscow's Sheremetyevo Airport, Russia's busiest airport.
It's really not much of a surprise that the jets will be based at this airport. Russian Aviation Insider noted in March that Rossiya Airlines had been consolidating all of its Moscow flights at the major hub airport over the past year and a half.
Prior to this migration, Rossiya had operated a leisure travel charter programme from the smaller and cheaper Moscow Vnukovo airport in conjunction with local travel agency Biblio-globus.
According to FlightGlobal, Rossiya's Superjets will have two different configurations. One will have 87 seats across two classes: 12 in business and 75 in economy. This is Aeroflot's one and only configuration. It appears then that Rossiya will add a second all-economy configuration, which would put it around the 100-seat mark.