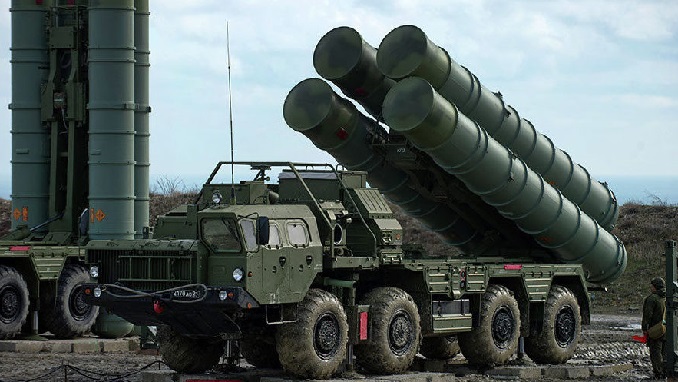 The United States called on Turkey to reconsider its decision to purchase Russian S-400 defense system saying that the country might face sanctions. The call comes amid a recent agreement between Ankara and Washington to enhance dialogue and mend diplomatic fences. However, Turkish officials ruled out the possibility of direct sanctions and reminded Washington of failed promises of "Turkey's allies" on the defense systems issue, Daily Sabah reported.
"The U.S. understands that Turkey wants to strengthen its air defense. However, we have concerns over possible purchase of Russian S-400 systems. We are clearly voicing this. This purchase might have negative implications over the interoperability of NATO and within the framework of newly passed law in Congress it might pose sanctions against Turkey," an American official told Haberturk daily, adding that the U.S. "wants to help Turkey find a better alternative to meet its air defense needs."
According to Turkish official, the country had asked its NATO allies to purchase defense systems, however its needs remained unmet which prompted Turkey to look to Moscow for the Russian S-400 system.
As a new law was passed in Washington which included the Russian companies selling S-400 systems in the sanction list, the question looms over now whether Turkey will face sanctions or not.
"When the U.S. includes the company selling the S-400 system within the scope of sanctions, there is a possibility that Turkey might be indirectly affected by this. However, they cannot impose a direct sanction against Ankara," said Turkish deputy prime minister Fikri Isık. The issue of imposing sanctions was also raised during the meetings of the U.S. Secretary of State, Rex Tillerson in Ankara. In the joint press conference with Foreign Minister Mevlut Cavusoglu, Tillerson said that the issue will be carefully evaluated by a group of experts. Tillerson underlined that the decision was taken against Russia and not aiming to harm the allies of the U.S.
In December, Turkey officially signed a $2.5 billion agreement with Russia for the S-400s — Russia's most advanced long-range anti-aircraft missile system. Turkey would be the first NATO member country to acquire the system.
Moreover, Turkey seeks to build its own missile defense systems as the deal also involves the transfer of technology and know-how. The S-400 system, which was introduced in 2007, is the latest generation of Russian missile systems, and so far Russia has only sold it to China and India.