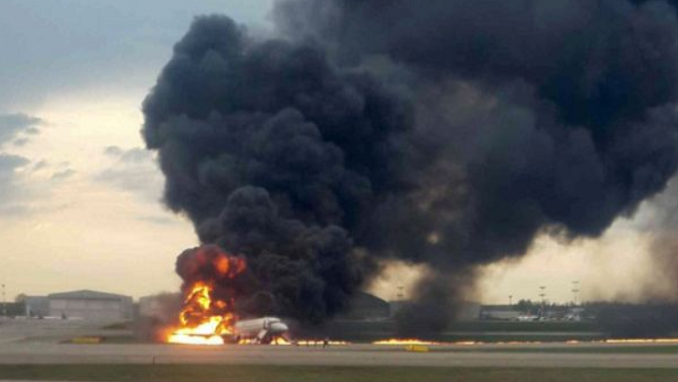 Russia's transport minister said there was no reason to ground the country's fleet of Sukhoi Superjet 100 aircraft, as investigators tried to determine what forced a jet to make an emergency landing and burst into flames, killing dozens, Interfax reported.
Asked by reporters at a news conference if the Sukhoi planes should be grounded pending the outcome of the investigation, Ditrikh responded: "There are no grounds for that."
Speaking on Monday, Yevgeny Ditrikh also said the bodies of the 41 people who died in the May 5 crash and fire at Moscow's Sheremetyevo Airport had been recovered.
Flight SU1492, operated by national airline Aeroflot, took off from Sheremetyevo and was heading for the northern city of Murmansk, carrying 73 passengers and five crew members when it was forced to turn around.
Videos showed the plane making a hard landing at Sheremetyevo, bouncing, then speeding along a runway, with flames and black smoke pouring from its fuselage.
The SSJ 100 is the only passenger airplane designed in Russia after the breakup of the Soviet Union that is used commercially today. The malfunction-prone plane is a headline project of the Putin era, an attempt to leverage the expertise of fighter-plane maker Sukhoi to claw back some Soviet-era airplane-building glory. According to the Moscow Times, it should be clear by now that the attempt has failed, at least for the time being.
The Sukhoi project, proposed by a company without experience making civilian planes but with a history of successful warplane exports, was chosen in 2002 over another one, based on designs from the Tupolev organization, and became pretty much the only government-backed project in the industry by 2006. It received direct state financing and loans from state-controlled banks. Boeing was a high-profile consultant on the project, and parts were sourced from some 40 companies based in 10 countries.