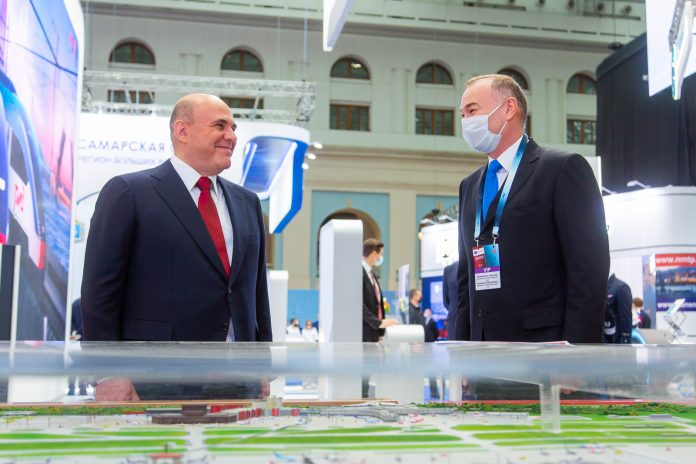 Today at the Transport of Russia Forum, Russian Prime Minister Mikhail Mishustin praised Sheremetyevo International Airport for its response to the COVID pandemic.
The airport was lauded for its ability to preserve investments and fulfill previously outlined plans during a difficult period in transportation.
"I am positive that Sheremetyevo, a well-known brand, will become nicer and better… I want to thank you," said Prime Minister Mishustin. "In principle, the situation is rather complicated, and by keeping investments and, actually, by sticking to your plans you had developed before the pandemic, you were able to implement those plans among other things."
The Prime Minister was speaking at the Transport of Russia exhibition, which is held within the framework of Transport Week. The annual business event includes a series of national and international events for open discussion of the most pressing transport issues and strengthening mutual understanding between government officials and the business community.
Alexander Ponomarenko, Chairman of the Board of Directors, explained to Prime Minister Mishustin how Sheremetyevo stayed on track during the pandemic to complete the reconstruction of Sheremetyevo's Runway-1. The project, which required an investment of USD 114 million, took ten months to achieve—a record short time of construction at the time of significant down-scaling of production activities and the need to follow anti-epidemic measures.
The runway will be commissioned on December 4, 2020 and will increase the airport's runway capacity to 110 million passengers per year and 135 take-off and landing operations per hour.
Ponomarenko stated, "The reconstruction of the runway strengthens SVO's leading position in the world in punctuality of flights and quality services, enabling favorable conditions for airline companies' development, and reinforces Sheremetyevo's status as the main transit air-hub between Europe and Asia."
The project was paid for with its funds as per the concession agreement between the Russian Federation represented by the Air Transport Agency and JSC Sheremetyevo International Airport.