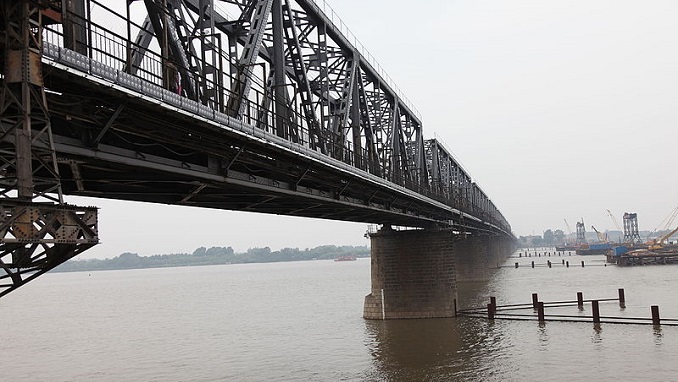 The main body of the Chinese part of the first cross-river railway bridge connection with Russia has been completed as part of China's Belt and Road initiative, according to Meduza.
This bridge across the Heilong River (known as Amur River in Russia) will connect Tongjiang city in Heilongjiang province with Nizhneleninskoye in Russia.
The Amur River Rail Bridge project aims to create a new trade corridor between the Nizhneleninskoye Jewish Autonomous Region in Russia and the Heilongjiang Province in China. It is part of a program of cooperation between the eastern regions of Russia and northeast China under the Belt and Road initiative. China Railway Engineering Corporation, the Heilongjiang provincial government, and the Far East & Baikal Region Development Fund Open Joint Stock Company are the project's investors.
The main bridge spans 2,215 meters, 1,886 meters of it in China and 329 meters in Russia. The Russian section is estimated to cost 10 billion rubles ($200 million). The construction of the Chinese side of the bridge was built by Chinese contractors in February 2014, and is designed to carry 21 million metric tons of freight annually.
China's bridge construction headquarters head Liu Weiquan said the Chinese side only has a small number of railway tracks to lay before full completion and the Russian side is also speeding up construction.
"As the first cross-river railway bridge connecting China with Russia, the bridge will boost bilateral trade between the Heilongjiang Province and the far eastern part of Russia, creating a transportation short-cut between China and Russia. Through the link with Russia, it will also promote China's connectivity with central Europe and Asia," said dispute specialist I-Ching Tseng of Pinsent Masons, the law firm behind Outlaw.com.