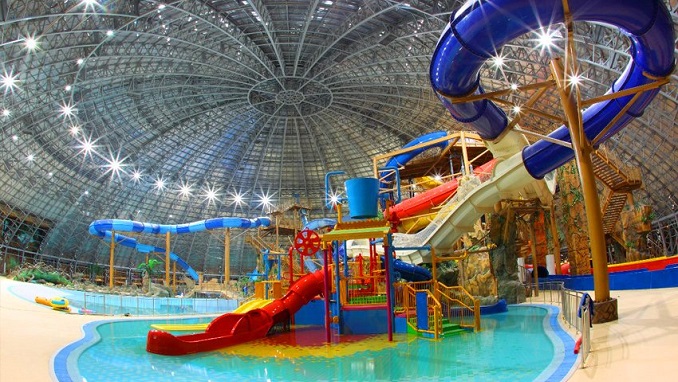 The largest indoor waterpark in Russia, LetoLeto Water Park, has opened in Russia's Tyumen region, local media reported.
Water slides in the aqua park were installed by Polin Waterparks, a Turkish company which is a global leader in water slide technology. Polin opened an office in Russia several years ago specifically to serve the country's growing waterpark industry. The company has also supplied waterslides to Gorki Indoor Waterpark and H2O Aquapark.
LetoLeto can host up to 2500 guests. Nearby is a 187 room four-star hotel with a gourmet restaurant and cafés, bars, bistros and a spa with a beauty salon and a fitness center, sports grounds, baths, and saunas. Both the hotel and waterpark are fully accessible.
LetoLeto Water Park is the largest indoor water park in Russia. Polin worked with local investment group Sibentel Holding on the three-year project.  The park opened to the public last month.
"I am sure that it will become one of the most favorite places for family recreation for Tyumen citizens and guests of the regional capital, will turn into a point of attraction for tourists from other regions of the country. The government of the Tyumen region creates comfortable conditions for investors in all areas of our economy. The creation of an aqua park is yet another confirmation of the correctness of such a strategy," Alexander Moore, acting governor of the Tyumen region, said at the opening ceremony.
He also thanked Sibintel Holding, "for the successful implementation of a large-scale investment project."
Selim Doguoglu, General Manager of Polin's Russian office, says the company strives to create thrilling rides that guests want to ride again and again:
"It's a real honor to know that our attractions are helping our partners like LetoLeto Aquapark not just satisfy their patrons but gain their enduring affection. It's truly satisfying to see the comments guests make after experiencing our designs. We know we've succeeded when guests rate our partners' parks with their highest reviews."