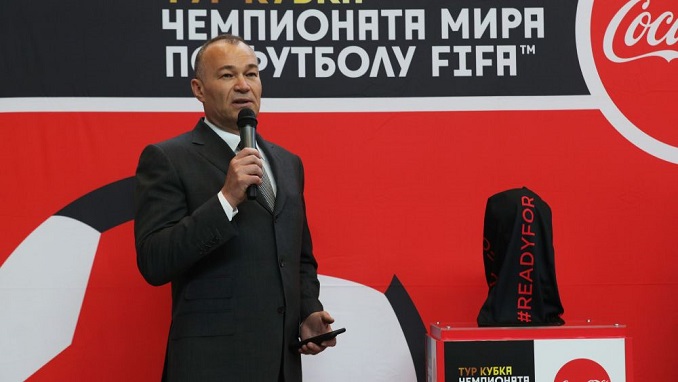 In an interview with Focus Washington, Sheremetyevo's Chairman of the Board of Directors, Alexander Ponomarenko talks about the perspectives and challenges of one of the busiest airports in Russia.
Focus Washington: Last year, Sheremetyevo surpassed the 45 million passengers traffic mark, and with the company's long-term development strategy, it expects to be able to handle up to 80 million passengers by 2026. How does the implementation of the Master Development Plan fit into the fulfillment of these expectations?
Alexander Ponomarenko: The figures we had in 2018 emphasize a successful year for Sheremetyevo, in which passenger numbers increased by 14 percent compared to 2017. The year prior saw a 17 percent increase in traffic growth, and we currently see market potential to keep the double-digit growth rate for at least two more years. Our strategy to increase passenger traffic involves both further development with existing key carriers and proactive work to increase Sheremetyevo's competitive advantages.We expect that the first phase of Terminal C construction, 117,800 sqm in total, will be completed this year, thus offering an annual capacity of 20 million passengers. The second phase, scheduled for 2021, will see the addition of a further 86,000sqm, increasing Sheremetyevo's total annual passenger capacity up to 80 million.
FW: Within the frameworks of the Master Development Plan, the Board of Directors announced renovation and construction of new facilities of the airport. What would you say is the most exciting project for the commissioning of the new objects?
AP: One of the main projects for 2019 will be the construction of a third runway, that will increase the airport's capacity to 90 takeoff and landing operations per hour. In 2020 Sheremetyevo will add a brand new aircraft maintenance area by constructing a hangar complex as part of the third runway. With this, the airport will feature at least seven hangars for our partner airlines, and process pads for specialized ground handling and airfield service vehicles.
As previously mentioned, Sheremetyevo will add the second phase ofTerminal C, which will boost the annual number of passengers by some 10 million. The second phase ofTerminal C will feature 1,500 parking spots in a multi-level complex. Additionally, we are working on the development of a rail station and railway to provide a direct connection from Central Moscow to the B and C Terminals of Sheremetyevo.
For 2022, engineers are handling the development of an apron that will be adjacent to the third runway.This new apron will host more than 40 parking lots for aircraft. Finally, the second phase of 'Moscow Cargo' terminal will be constructed to handle an additional 380 thousand tons of cargo annually.
FW: The 2018 FIFA World Cup went down as a big success for Russia, and it also saw a new passenger terminal built specially for the tournament. How difficult was it to conduct the necessary constructions, and do you consider that the new facilities fulfilled the passengers expectations?
AP: We carried out large-scale transformations for the World Cup. Aside from Terminal B, we also built an underground inter-terminal passage that links the Sheremetyevo-1 and Sheremetyevo-2 complexes for the convenience of passengers as they travel between the complexes.A year before the event, we had established a 'situation room' to coordinate all World Cup related activities and anticipate any potential challenges. Numerous exercises took place to assess the terminals' readiness to welcome guests and participants, including tests under the supervision of the FIFA Organizing Committee. In just one month, while the tournament was held, we served 33,800 flights and 4.7 million passengers. We served 703 flights with teams, families of football players, FIFA delegations and charter flights with fans. The airport staff did everything possible to make the passengers feel comfortable and we are satisfied with the overall results, since we managed to meet our goals and provide the best service to fans from all around the world.
FW: Sheremetyevo Airport is constantly transforming and becoming modernized in order to meet the highest criteria in the air transport market. Do you think that these changes will have a great impact on the airline potential of Russia in general?
AP: In the Master Development Plan, we determined the most important strategic milestones in the infrastructure modernization and construction projects for the period until 2024. This will ensure the long-term steady development of airlines and business partners for the benefit of our passengers and clients.The implementation of our plan will strengthen Sheremetyevo's position as the largest Russian airport, and as a competitive passenger and cargo hub in Europe and in the world. The new infrastructure of Sheremetyevo Airport will also contribute greatly to the effective realization of Russia's air transport potential. New terminals will significantly increase the quality of service for international transit passengers and we believe this will enable our airline partners to grow this segment of business. Moscow is well positioned for some of the Europe-Asia international traffic and we see some potential in this market.
FW: In terms of construction and development projects, it sounds like Sheremetyevo is achieving great success. However, 2018 was a challenging year for the European aviation market, which impacted many airport's on-time performance. How did Sheremetyevo deal with these same challenges?
AP: We are pleased to be able to say that Sheremetyevo performed very well last year. Recently, OAG, the world's leading provider of travel data and insight released their comprehensive ranking of the world's largest airlines and airports in terms of on-time performance (OTP). Sheremetyevo took this year's number one spot in the Major Airport rankings. Despite the challenging conditions faced by European airports and carriers in 2018, we are pleased that we were able to improve from third position in our category the year before. As we continue to expand our passenger capacity each year, the fact that our OTP increased during what was considered a difficult year for airlines and airports in Europe in general is truly a testament to how we care about our passengers and how well we at Sheremetyevo work together to ensure that our passengers are departing on time.