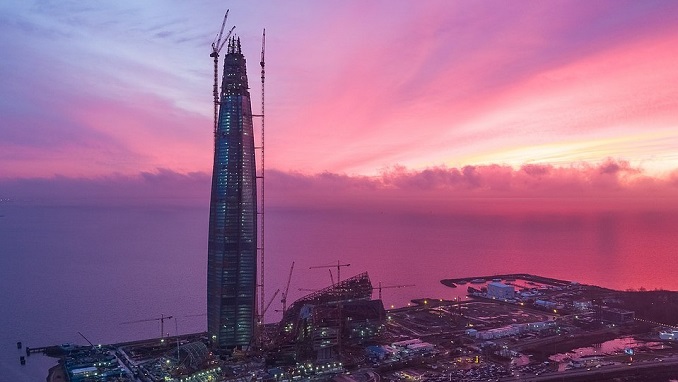 The tallest building in Russia and Europe, the Lakhta Centre in St Petersburg, Russia has been revealed as the massive construction project nears completion, Russian channel Top TV reports.
The twisted supertall skyscraper, standing 462 meters high, finished construction in June 2018. It is the 13th tallest building in the world. Its 87 floors are currently being fitted out.
Developers Gazprom, the Russian national gas company that will occupy most of the building, also claim it to be the "northernmost skyscraper in the world".
British architect Tony Kettle designed the tower during his tenure at studio RMJM, before handing the project over to Russian architects Gorproject to complete.
Tapering to a point, the spire has a 90-degree twist from foundation to tip, making it the most extreme twist on a tower after the mega-tall Shanghai Tower's 120-degree twist.
Kettle said he was influenced by St Pertesburg's Peter and Paul Cathedral when designing the skyscraper, which is formed of five towers tapering around a diminishing circular core.
"My sense was very much to create something that was as light and elegant as the historical forms, capturing the changes in daylight in a similar way to that of the golden domes and spires," he said in his statement.
A publicly accessible observation deck will be located at the 360-meter point. A planned restaurant will be Europe's highest panoramic restaurant.
Located nine miles from the center of St Petersburg on the coast of the Gulf of Finland, the 400,000 square meters of the Lakhta Centre complex also includes a 24-meter-tall entrance archway, a separate boomerang-shaped multi-storey building, and a covered carpark.
Two-thirds of the office space at the Lakhta Centre will be occupied by Gazprom's new headquarters, which will employee 8,000 workers on the site. A third of the complex will be given over to public spaces, including a science and education center, a spherical planetarium, a concert hall, amphitheater and several squares.