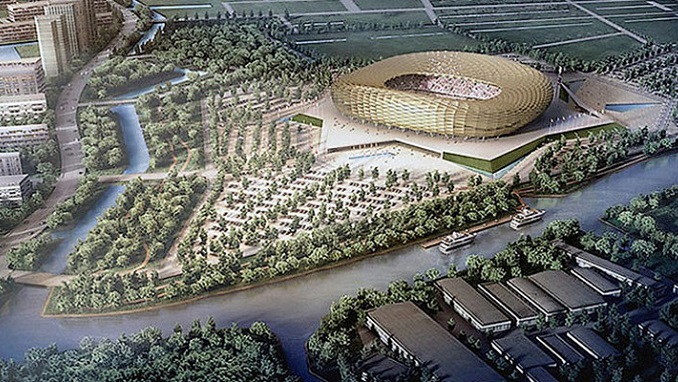 UK-based studio LDA Design has won an international competition to create a landscape-led masterplan in Russia's Kaliningrad by putting water at the heart of its design, Mail.ru News reports.
Leading a multi-disciplinary team, LDA Design's vision for Oktyabrsky Island, which sits in the Pregolya River, beat four finalists to win the competition run by Strelka KB with the support of the regional Kaliningrad government.
A short 10-minute walk from the city center, Oktyabrsky Island is home to the 2018 World Cup, 35,000-seater Kaliningrad Stadium. Comprising 385 hectares of reclaimed marshland, it has been designated a special economic zone by the Russian government, to attract international investment and tourism. It is also meant to be of benefit to all Kalingrad residents.
Kaliningrad's Governor Anton Alikhanov wrote in the brief, "a city is not a house-street-urban block, it is first and foremost about people."
The team decided to draw water into the island through a series of waterways connected to the Pregolya which could provide routes for water taxis and enable some parts of the island to go car-free. Under this idea, drivers could park their vehicles in buildings on the outskirts of the island, which could be repurposed in the future if car use dwindles.
This would facilitate a car-free cultural quarter on the river banks with a large park at its heart.
"We are delighted to have been selected from such strong international competition, and are excited about collaborating with all stakeholders to realize our vision for Oktyabrsky Island," said LDA's director of urban design Mark Williams.