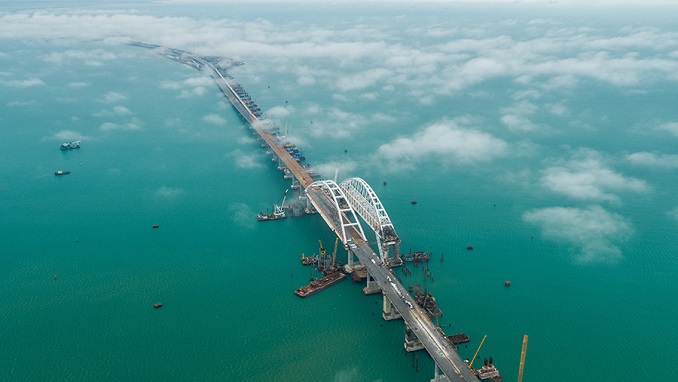 Ukraine has said that the newly-built Russian bridge to Crimea, the peninsula it annexed in 2014, is used by Moscow to delay its neighbor's ships, exert political pressure and hurt its economy, Bloomberg reports.
Ukraine's State Border Service said Wednesday that inspections of vessels have risen sharply since the 19-kilometer (12-mile) bridge across the Kerch Strait to Russia's mainland was officially opened in May. Waiting times can be as long as three days, according to spokesman Oleh Slobodyan.
"The creeping hybrid blockade of the Azov Sea has been going on since late spring," Slobodyan told reporters in Kiev, Ukraine's capital.
Russia's seizure of Crimea from Ukraine prompted U.S. and European Union sanctions that are still in place. The bridge was a priority for President Vladimir Putin because his country shares no land border with the peninsula. Petro Poroshenko, his Ukrainian counterpart, said this month that he won't accept the "illegal seizure of Ukrainian and foreign vessels moving in the direction of Ukrainian ports."
Earlier this month, European Union ambassadors have agreed to add several more people to a blacklist which includes individuals who have played a role in undermining Ukraine's sovereignty, over the inauguration of the Crimean bridge.
150 Russian and Ukrainian citizens, along with 38 organizations, form part of the Ukraine blacklist. The list mainly includes officials from the self-proclaimed Lugansk and Donetsk People's Republics. 

Also in July, Ukrainian Infrastructure Minister Volodymyr Omelyan said his country has lost at least $18.5 million in 2018 due to the construction of the Kerch Strait bridge. He said the main problem is that the bridge limits navigation to the Ukrainian ports of Mariupol and Berdiansk.