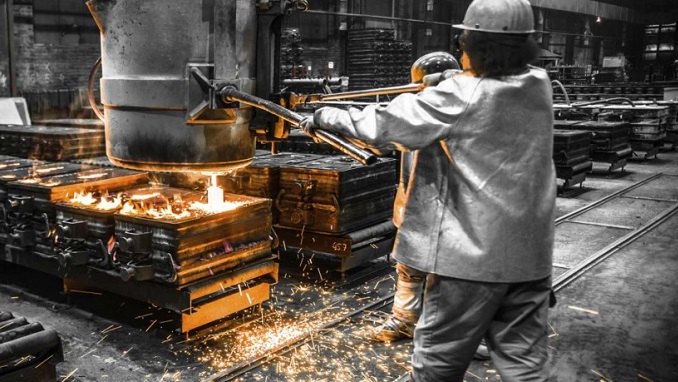 Three U.S. mills, Nucor, US Steel and AK Steel, are objecting to a request made by Russia's Evraz to exempt Russian steel slab imports from the United States' Section 232 tariffs, filings with the U.S. Bureau of Industry and Security (BIS) reveal.
According to Platts, if successful, these objections could result in the denial of Evraz North America's exemption request by the BIS and in turn could up-end the company's long-established business model of importing semi-finished steel, or alternatively could significantly boost Evraz NA's production costs.
Evraz NA initially requested that some 1.1 million tons of Russian slabs be exempt from 25% Section 232 steel duties in filings starting on Tuesday, April 24. Commerce has 90 days from the initial request to grant or deny the exemption, which puts a decision close to July 23.
In March, President Donald Trump signed a pair of proclamations setting new tariffs on steel and aluminum imports, which initially spared America's closest allies. The European Union, Canada, Mexico and other allies, however, were still targeted on June 1, when their temporary exemption status expired.
The American producers argue that there is ample domestic slab supply in the U.S. which the Russian company has access to but continues to rely on the imported slab in order to maximize profits.
"Such a business model directly undermines U.S. steel production and should not be rewarded with a product exclusion," according to Nucor's filing.
Evraz NA can continue to buy Russian slab, albeit with a surcharge of 25% by paying the Section 232 duties, Nucor and U.S. Steel pointed out. This would allow Evraz NA to maintain its business model. U.S. Steel is also happy to sell slab to Evraz NA and has "enormous incentive" to do so, U.S. Steel said.
Analysts have warned that Trump's tariffs could cost the U.S. hundreds of thousands of jobs. The latest numbers from The Trade Partnership, a DC-based economics research firm, suggest that the impact will be even worse than originally estimated. Some 400,000 jobs will be lost, with 16 losses for every job created by the tariffs, the group said on Tuesday. That's more than three times the number of job losses it expected earlier.