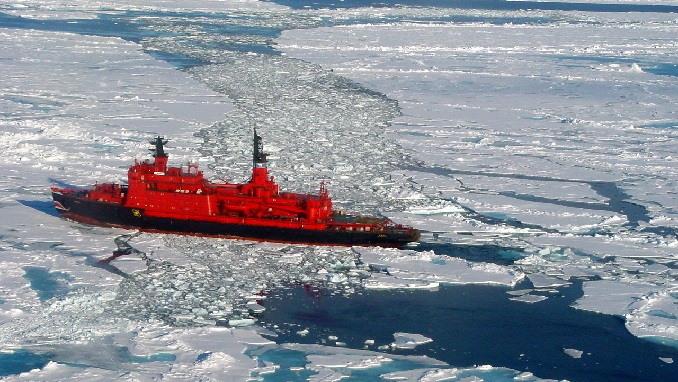 Democrats are pushing to provide funding for Coast Guard icebreaker ships and include it in a bill that must be completed by Dec. 7 to avoid a partial government shutdown, NWA reports.
Still, the move — largely aimed at countering Russian influence in the Arctic — is complicating negotiations already mired in debate over spending for President Donald Trump's border wall, the report says.
Democrat lawmakers want $750 million to expand the Coast Guard's small fleet of ships in the Arctic, where Russia has made inroads in recent years as the U.S. moves slowly. The money would pay for a new polar icebreaker, a large ship used for scientific research, defense and to break apart sheets of ice, allowing other vessels to traverse Arctic pathways.
The Coast Guard employed more than half a dozen of the massive ships back in the 1970s, but is down to two operable ones assigned to the Arctic: the Polar Star and the Healy, both of which have long-surpassed their 30-year service lives.
Both ships were built in Seattle and are docked at the U.S. Coast Guard base there, providing huge boosts for the area's shipbuilding industries. Along with the Alaskan congressional delegation, Washington state's two senators have played a key role over the years in securing funding for the icebreakers.
Russia has more than 40 polar icebreakers, including several nuclear-powered behemoths, extending its military and economic presence in the region as warming temperatures and melting ice make more of the Arctic accessible. Not all experts agree that Russia poses a security threat in the Arctic, but some lawmakers don't want to take any chances.
Rep. John Garamendi of California, the top Democrat on the Coast Guard and Maritime Transportation subcommittee, said adding more polar icebreakers to the region will help the U.S. to counter Russia's growing influence.
Russians are "able to assert their dominance" of much of the Arctic, thanks to its large fleet, and the Coast Guard is "hard-pressed" to stop them, Garamendi said.
He also thinks icebreakers are needed to help commercial ships navigating icy passageways stay safe.