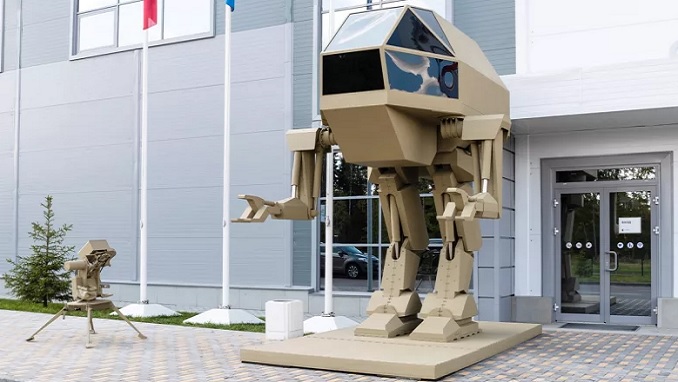 Kalashnikov, the most famous arms developer in Russia, has launched a 13-foot tall walking robot that is operated by soldiers that sit inside it with the machine acting as a bulletproof military suit for them, Gizmodo reports.
Kalashnikov Group showcased the invention at the Army 2018 Fair, the International Military-Tech forum held in Moscow this week.
The enormous 4.5-tonne bulletproof robot can hold weapons in its claws and was presented to its audience as a "demonstration of what is to come."
Pilots operate the robot, named Igorek, from an internal cabin and are protected from aggressors, bullets or debris, by a metal shield and armored glass. The robot is still under construction and Kalashnikov is keeping any further spec details secret for now.
According to Vladimir Dmitriev, the temporary head of the Kalashnikov Group, the robot is "probably one of the hottest new models of the 'Army 2018'."
"Currently it is only a demonstration of the path we are planning on following," he said.
"We understand that there are robotic machines driving on caterpillar and wheel drive, we also understand that there will be demand for anthropomorphic automatic movable systems," Dmitriev added.
The robot has been compared to the AD-209 (Enforcement Droid series 209) from the Robocop series due to its long legs, 'arms' and gold-color.
The Arms Fair is organized by the Ministry of Defence of the Russian Federation and hosts around 1,200 exhibitors that display some 26,000 weapons and military equipment, including helicopters, fighter jets, and tanks.