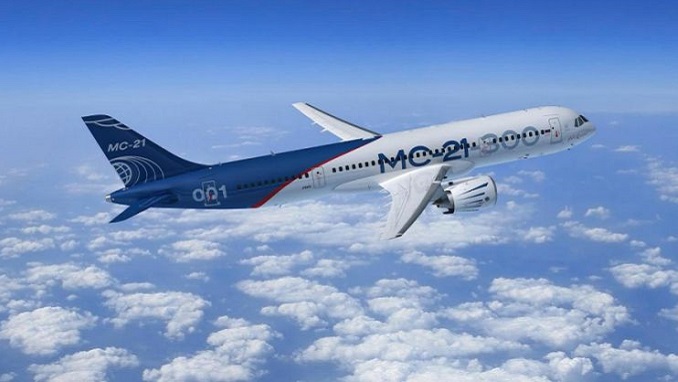 Russia's new narrow-body medium-haul passenger plane, the MC-21, will be revealed for the first time at the MAKS 2019 air show next week, Sibnet News reported. 
The aircraft, produced under the wing of Russia's state-run United Aircraft Corporation (UAC), was first expected to make an appearance two years ago at the MAKS 2017 event at Zhukovsky, but the prototype of the family's basic -300 variant, which made its maiden flight in Irkutsk on May 28, 2017, had not yet passed factory tests.
The MC-21's manufacturer, Irkut Corporation, will proffer three MC-21-300 test aircraft, including one fitted with a passenger cabin, which are expected to be demonstrated in both the aerial and static displays at MAKS 2019. The manufacturer has also announced that the MC-21 programme update press conference will be held on the opening day of the air show.
The presentation of a new, clean-sheet Russian-made aircraft has been awaited for an entire decade. The previous dream of the national aviation industry, the Superjet 100, made its debut at MAKS 2009, but has not since become "the world's first regional super aircraft." Visitors to the Paris Air Show, at Le Bourget, which celebrated its centenary in 2009, were the first to see the new Russian aircraft that had been created in collaboration with top aircraft companies of Europe and America. Those times are long gone.
In July 2019, Denis Manturov, Russia's minister of industry and trade, revealed to Reuters that the MC-21 could not have been created without its Superjet 100 predecessor. 
"We needed to develop [our] expertise in the civil aircraft industry, in new economic realities. Some $2 billion was spent on the development of the Superjet 100. As for the MC-21, the entire programme hopes to produce almost 100 aircraft per year; with a total cost of some $4 billion," Manturov said.