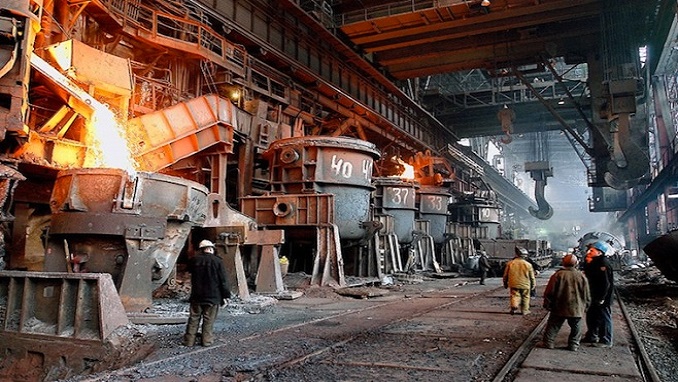 U.S. tariffs on steel and aluminium imports are unlikely to cuse serious harm to Russian metals and mining companies analysts and company representatives said.
After President Donald Trump once again said he would impose hefty tariffs to protect U.S. producers, Russia's top two steelmakers and its leading aluminium producer saw their share prices fall on Friday, Reuters reported.
According to Trump, the duties, 25 percent on steel imports and 10 percent on aluminium, would be formally announced next week, although White House officials later said some details still needed to be ironed out.
Russia shares Europe's concern about the decision, Kremlin spokesman Dmitry Peskov said on Friday, adding that Moscow is "carefully analysing the situation which is forming in trade relations after this statement".
Russian deputy prime minister Arkady Dvorkovich told Interfax news agency he expected some damage to Russia from the new duties, but he added that any harm would be more significant for the European Union and China.
For Severstal, a leading steel producer, and aluminium giant Rusal, the small size of their U.S. sales makes it easy to redirect to other markets, analysts said.
The roughly 300,000 tonnes of steel that Severstal exports to the United States can easily be channelled elsewhere, BCS Global Markets experts said.
This was echoed by company representatives, who told Reuters the United States accounted for just 2 percent of Severstal's sales, though the company's shares were down 2 percent.
"As for aluminium, it is a virtually zero issue as Rusal sells only around 10 percent to 15 percent of volumes there and will send the material elsewhere at virtually no cost," BCS wrote in a note.
Rusal, controlled by businessman Oleg Deripaska, saw its share price fall 3.3 percent. The company did not reply to a request for comment.
Russian steelmakers with sizeable exports to the United States would be protected from the impact of tariffs by their U.S. assets, analysts said.
Though the new tariffs would cost top Russian steel producer NLMK an additional $150 million, this would also be offset by the 2.2 million tonnes of steel it sells in the United States, VTB Capital said.
NLMK, controlled by billionaire Vladimir Lisin, said in February that it had placed on hold a project to increase its U.S. rolling mill capacity until more information was available about the possible tariffs, after they were recommended by the U.S. Commerce Department.