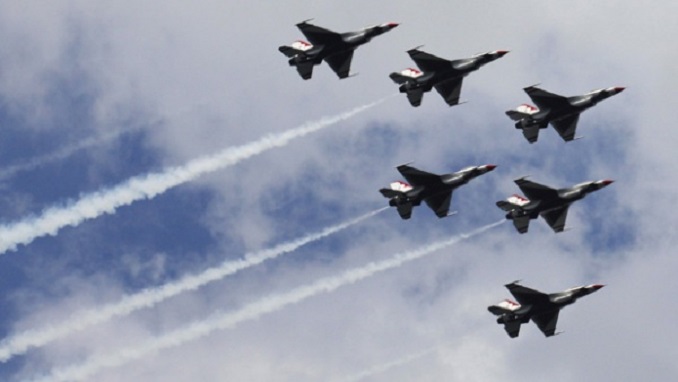 A nearly half-billion dollar contract issued to a Chicago-based steel company to make bunker-buster bombs is being revoked after complaints by lawmakers about the company's ties to a Russian oligarch, Bloomberg reports.
The Air Force awarded a contract worth $419.6 million to A. Finkl & Sons Co. to produce bomb bodies for the 2,000-pound BLU-137 penetrator warhead.
A group of U.S. lawmakers protested the decision, saying Finkl was not eligible for the award because of its foreign parent company, Swiss steelmaker Schmolz + Bickenbach, which is partially owned by Viktor Vekselberg, a Russian billionaire and aluminum magnate who has been hit by U.S. sanctions.
Pennsylvania Republican Rep. Mark Kelly told Bloomberg that by awarding the contract to Finkl, the Air Force had "turned their back" on Ellwood National Forge, a longtime bomb-maker that employs 2,000 people and is based in Pennsylvania. Ellwood had worked on every previous generation of the warhead.
Vekselberg, born in Ukraine and based in Switzerland, is worth more than $15 billion and holds an 11.34% stake and 1.25% stake in Schmolz + Bickenbach through two holding companies, both of which have been hit by US sanctions against Russia over that country's actions in Crimea and Ukraine. (His stakes in Schomlz + Bickenbach were not large enough to draw sanctions on that company.)
Earlier this year, the US imposed sanctions on Russian individuals and entities over Moscow's suspected meddling in the 2016 US election — including assets worth between $1.5 billion and $2 billion belonging to Vekselberg and one of the holding companies in question.