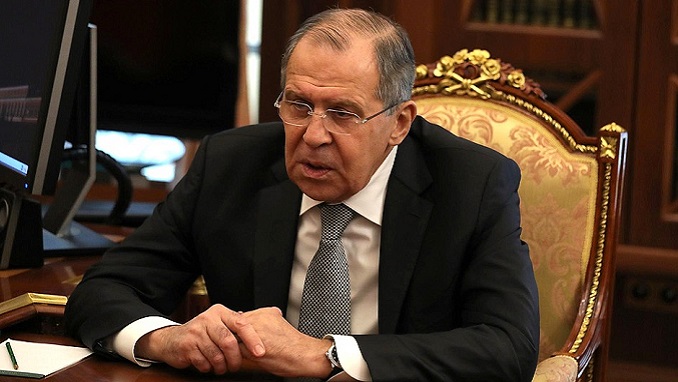 NATO's position hinders implementation of Finland's initiative on safe flights over the Baltic Sea, as the alliance does not agree that all military aircraft should have their identification transponders switched on while flying over the Baltic Sea, Russian Foreign Minister Sergey Lavrov said on Monday, Sputnik reports.
"We discussed the steps that were necessary for strengthening European safety and de-escalating tensions in this region that are common for us. Thereupon, we pointed to the importance of [Finnish] President [Sauli] Niinisto's initiative on air safety over the Baltics," Lavrov said, noting that the initiative was implemented "to a significant extent," Russian Foreign Minister Sergey Lavrov said on Monday after talks with his Finnish counterpart.
"However, its full implementation is hampered by the position of the NATO countries, which do not want to agree that all military planes should have their transponders on while flying," the Russian minister stressed.
Niinisto came up with his initiative to boost the safety of flights over the Baltic Sea back in 2017. The proposal includes a ban on flights of military aircraft with switched off transponders.
The relations between Moscow and Helsinki have not been affected by the current situation around Russian opposition figure Alexey Navalny, Sergey Lavrov added.
Addressing a press conference, Lavrov pointed to inadmissibility of foreign diplomats' participation in the recent unauthorized rallies of Navalny supporters, and noted that most of the EU diplomats abstained from doing it.
"As for whether the situation affects our relations with Finland, I can tell you it has no negative influence on our close bilateral partnership, and our cooperation within regional organizations in the north. Yes, we have heard how our Finnish colleagues, just like other colleagues from the EU, always assess the events … We know it is all written and edited in the EU, in Brussels, this results from consensus, we hear it all quite regularly," Lavrov said after negotiations with Finnish Foreign Minister Pekka Haavisto.
Russia is ready to have a "frank and friendly" discussion of human rights with Finland in light of the recent protests over the arrest of an opposition activist, the Russian foreign minister said.
"We reaffirmed our readiness to talk about human rights and other topics that concern our partners. We are open to a frank and friendly discussion, which is the way we do things with our Finnish neighbors," Lavrov told a news conference.
The Russian foreign minister said Haavisto raised the arrest of Alexei Navalny and the expulsion of three EU diplomats from Russia for taking part in unsanctioned opposition protests that swept the country last month. Lavrov said he detailed Moscow's position on the issues.