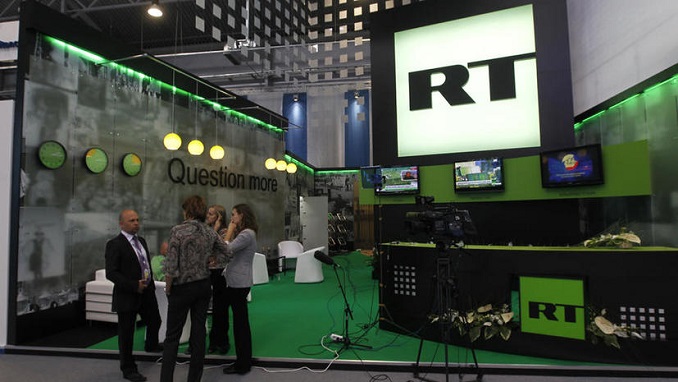 Russia's RT television network is going off the air in the Washington, D.C., area, one of the channel's most coveted markets in the United States, Bloomberg reported.
The pro-Kremlin English language news channel, described by U.S. intelligence agencies as part of Moscow's "state-run propaganda machine," will still be available via satellite, but two Washington-area stations that carry it are set to suspend operations at midnight Saturday, prompting cable operators to drop the channel.
MHz Networks, a Virginia-based distributor of international programming in the United States that broadcast RT and other foreign news channels on the two stations, said it was ending distribution in the wake of the station operator's decision to auction off their licenses.
As a result, Washington-area cable operators such as Comcast and Cox Communications, which are legally required to carry channels with "must-carry rights," will drop them.
RT, formerly known as Russia Today, has struggled to get on cable in the United States. Washington is one of a couple of metropolitan areas in the nation where the channel is available on cable, Thomas said.
The broadcaster has come under increased scrutiny since last January when U.S. intelligence agencies concluded the channel and a sister radio network had been used as part of a Kremlin-orchestrated campaign to disrupt the 2016 U.S. presidential election.
Last year, the U.S. Justice Department forced RT's U.S. arm, T&R Productions LLC, to register under the Foreign Agents Registration Act (FARA). The agency also compelled Reston Translator LLC, a radio station operator that carries Kremlin-funded Radio Sputnik, to register as a foreign agent.
Thomas insisted that his decision to drop the foreign news channels had "nothing to do with politics" or the Justice Department's scrutiny of foreign news distributors and broadcasters.
"The reason we're getting out of the channel is related to a change in technology and TV business," Thomas said. "The FARA thing is very coincidental to the entire thing."