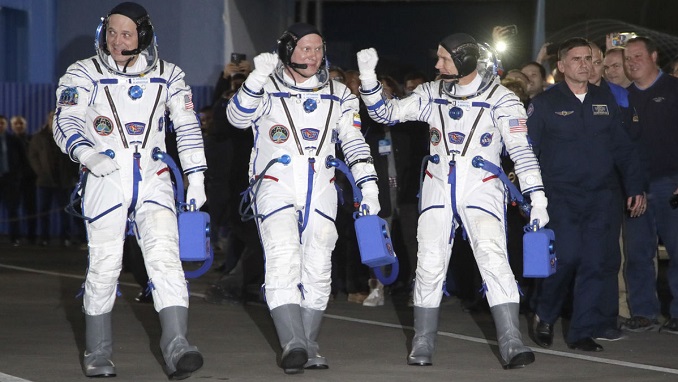 A three-man crew consisting of two NASA astronauts and a Russian cosmonaut are on their way to the International Space Station (ISS), Space.com reported.
A Russian Soyuz spacecraft launched from Baikonur Cosmodrome in Kazakhstan on Wednesday has taken Americans Drew Feustel and Ricky Arnold and Russian Oleg Artemyev to the station. The craft was carried skyward by a Soyuz rocket, which lifted off at 1:44 p.m. EDT (17:44 GMT).
Feustel, Arnold and Artemyev are scheduled to arrive at the orbiting lab Friday afternoon. When they get there, the trio will boost the station's population to its full complement of six crewmembers. At the moment, the ISS is occupied by cosmonaut Anton Shkaplerov, commander of the current Expedition 55; NASA astronaut Scott Tingle; and Norishige Kanai of the Japan Aerospace Exploration Agency.
Feustel, Arnold and Artemyev are all veteran space fliers. Arnold flew on the STS-119 mission of the space shuttle Discovery in 2009, and Feustel has two shuttle jaunts under his belt, including STS-125, the final Hubble Space Telescope servicing mission. That flight lifted off in May 2009, aboard the orbiter Atlantis.
Artemyev has been to the ISS once before, spending 5.5 months aboard the orbiting lab in 2014 as a member of expeditions 39 and 40.
The space station's program has been one of the rare examples of U.S.-Russia co-operation which appears mostly untouched by politics and the rivalry between the two countries in recent years.
However, this changed when the Russian Soyuz became the only astronaut ride available to and from the ISS since the space U.S. shuttle fleet was grounded in 2011.
In what some have seen as a gesture of frustration over the situation, U.S. President Donald Trump's administration in January prepared to end U.S. support for the International Space Station by 2025, with an option to hand it over to a public company, according to The Verge.
Congressional officials have slammed the reports, saying that the move would harm U.S. public and private interests in space. However, this plan essentially follows what many expect for the future of the station: that commercial interests will eventually take over responsibility for the outpost as NASA refocuses on missions to the Moon and to Mars.
Congress has recently discussed the options for extending the ISS's funding beyond 2024. The United States' ability to send astronauts to Mars in the mid-2030s depends in part on cutting back or ending government funding for the International Space Station (ISS) after 2024, the head of a congressional subcommittee that oversees NASA said Wednesday.
"We ought to be aware that remaining on the ISS [after 2024] will come at a cost," U.S. Representative Brian Babin, a Texas Republican who chairs the House Science and Technology's Subcommittee on Space, said during a hearing.