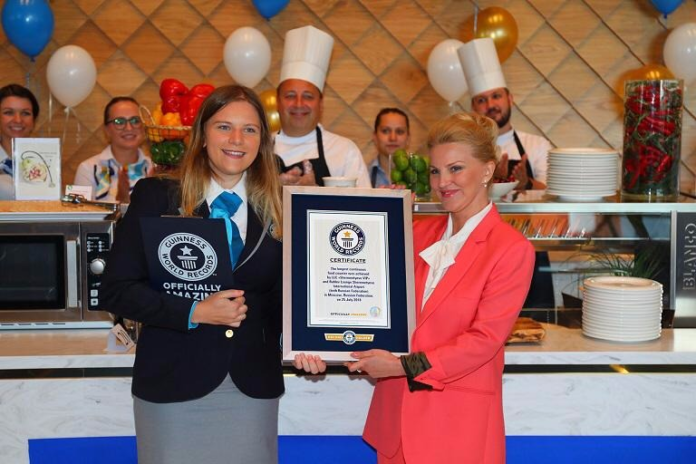 The modern buffet has its origins in 16th-century Sweden, where guests gathered for a pre-dinner drink of Swedish schnapps. But the smörgåsbord (as the buffet table came to be known) did not experience a rapid increase in popularity until the mid-18th century. This coincided with railroads expanding across Europe when dining carriages required a method of service that was easier than waiters carrying dishes out from the kitchen.
Air travel has naturally made the buffet a regular feature of airport business lounges as well, allowing travelers to eat quickly between flights without the time and trouble of a sit-down meal attended by servers. Reportedly, more than 2.3 million guests used airport business lounges in 2017, an increase of 20% over the previous year. The convenience of business lounge buffets has undoubtedly played a major role in this trend.
When tens of thousands of soccer fans from around the globe descended on Russia for the World Cup 2018 in June and July of this year, many were greeted by a dazzling portal to the world's biggest country in the form of Moscow's newly renovated international airport, Sheremetyevo. The airport itself is a showcase of architectural style and state-of-the-art construction and served as a splendid venue for the official ceremony to hand over the trophy to the host country.
Now, Sheremetyevo is in the public eye yet again, as a unique feature of one its two business lounges has propelled the major international and domestic transport hub into the headlines.
The Guinness Book of World Records has certified the buffet in the Rublev lounge (named for the great medieval Russian artist Andrei Rublev) as the longest continuously operating business lounge foodline in the world. At 34 meters, the buffet table offers a wide selection from the best of Russian cuisine in stylish surroundings and can accommodate scores of travelers at the same time due to its impressive length.
Rublev and its companion lounge, Kandinsky, have taken airport premium business lounges to a new level internationally. Both were designed by award-winning Dutch architecture practice M+R interior architecture, known for its work at the Schiphol Airport in Amsterdam.
Pavilions designed in the form of the braided, onion-shaped domes – symbols of Russia – divide Rublev into several sections that show off different elements of Russian architectural elegance.
Located on the 3rd floor of Terminal B, next to Gates 105 and 106, the Rublev lounge has an area of 2,608 square meters and can accommodate up to 456 guests.
Apart from its extensive buffet – with optional "showcooking" – it offers a variety of different seating areas, a bar, a lounge section with comfortable seats and workstations, a large baby-changing room and a separate room for children along with spacious beds.
On the second floor, the Kandinsky lounge features a full-service kitchen with unlimited soft drinks, a bar, a large meeting room, bathrooms with shower facilities, and spacious sleep pods.
The Rublev lounge – open 24 hours, seven days a week – is specifically designated for Aeroflot Priority Class passengers and Priority Card holders. However, for a fee of 3,500 rubles (roughly $55) per adult and 1,750 ($28) per child between 2 and 12 years, passengers of any airline – even non-business-class travelers – can gain access to either Rublev or Kandinsky for four hours.
Sheremetyevo Airport has already won the 2017 "Business Traveler Award" for Best Russian Airport and the Best Business Lounge. In 2018, it can look forward to yet more accolades – to add to its prestigious award from Guinness for making history with its splendid buffet.