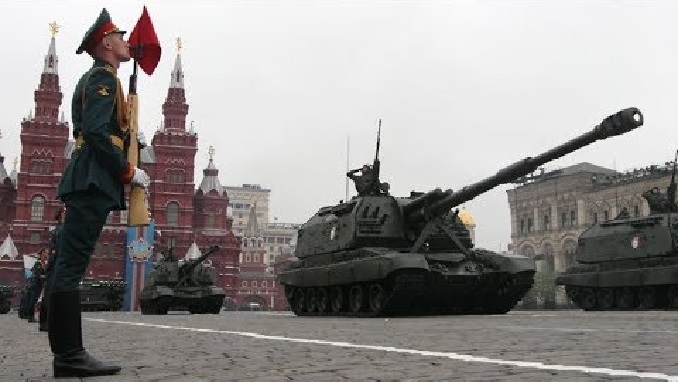 A military parade to commemorate the 76th anniversary of the Soviet Union's Victory over Nazi Germany in the 1941-1945 Great Patriotic War took place on Moscow's Red Square on Sunday, TASS reported.
The parade began with the march of the banner group of the Preobrazhesnky Regiment's Honor Guard's battalion carrying the Russian national flag and the legendary Victory Banner across Red Square. The Victory Banner was hoisted over the Reichstag by soldiers of the 150th Idritskaya rifle division in May 1945.
Russian President Vladimir Putin, war veterans and guests watched the parade from the central reviewing stand on Red Square. Russian Defense Minister General of the Army Sergei Shoigu reviewed the parade, which was commanded by Ground Forces Commander-in-Chief General of the Army Oleg Salyukov.
This year, Russia's Victory Parade on Moscow's Red Square involved over 12,000 troops, about 190 items of military and special hardware and 76 aircraft and helicopters.
The foot columns comprised 37 parade units that included officers, sergeants and soldiers of military units and formations, students from military universities, cadets of Suvorov infantry and Nakhimov naval military schools and cadet corps, Young Army Movement members and also units of the Emergencies Ministry, the National Guard and the Border Guard Troops of Russia's Federal Security Service (FSB).
The legendary T-34 tanks traditionally led the mechanized column at the Victory Day Parade. The light wheeled hardware included Taifun-VDV armored cross-country vehicles and also the latest Taifun-PVO special armored vehicles for transporting the personnel of man-portable air defense systems, which took part in the parade for the first time.
The motorized infantry's combat hardware was represented by BMP-2 infantry fighting vehicles with Berezhok combat modules and the latest Kurganets-25 combat vehicle with Epokha combat modules, and also BMP-3 IFVs.
The Airborne Force's military hardware included BMD-4M and BTR-MDM 'Rakushka' airborne infantry fighting vehicles. The newest Uran-9 remote-controlled mine-clearing vehicles also rolled through Moscow's Red Square.
This year, T-72B3M, T-80BVM and T-90M 'Proryv' main battle tanks and also the cutting-edge T-14 Armata tanks trundled across Red Square.
The armaments of artillery and missile troops taking part in the military parade were represented by Iskander-M tactical missile systems, Tornado-S multiple launch rocket systems, Msta-S self-propelled howitzers and Koalitsiya-SV multiservice force artillery systems, as well as TOS-1A heavy flamethrower vehicles.
Advanced Buk-M3 and Tor-M2 medium-and short-range anti-aircraft missile systems represented the armaments of the Army's battlefield air defense. The air defense forces' military hardware comprised Pantsyr-S anti-aircraft missile/gun launchers and S-400 surface-to-air missile systems that traditionally participate in military parades on Moscow's Red Square.
The mechanized column's parade was concluded by Yars intercontinental ballistic missile launchers escorted by security units on Tigr-M armored vehicles.
Russian combat aircraft and helicopters flew in formations to conclude the military parade on Moscow's Red Square. Overall, 76 combat planes and helicopters representing almost all types of the Russian Aerospace Force's aircraft flew over Red Square.
For the first time this year, three heavy Mi-26 military transport helicopters opened the aerial parade. They were followed by five Mi-8 multirole helicopters famous for their ability to cope with diverse tasks and operate in various climatic conditions. The army aviation's flyover was concluded by advanced Mi-35 attack helicopters of the Berkuts (Golden Eagles) aerobatic group and also Ka-52 'Alligator' and Mi-28N 'Night Hunter' gunships.
The airborne parade proceeded with a flyover of three Il-76 aircraft that are the backbone of Russia's military transport aviation. Tu-160 and Tu-95MS strategic missile-carrying bombers flew in parade formations over Moscow's Red Square followed by two Il-78 aerial refueling tankers, which demonstrated mid-air refueling. One of Tu-160 bombers flew in a single dense formation with four fighters.