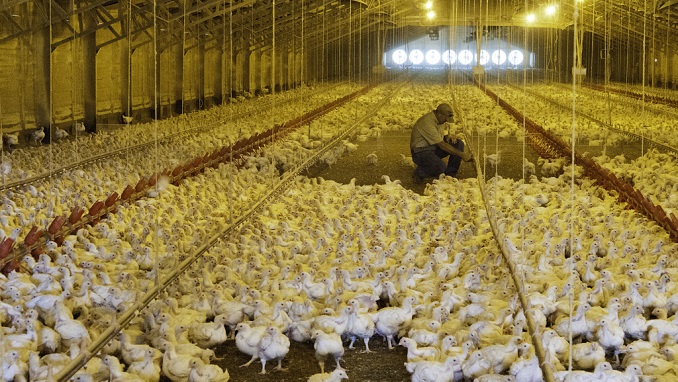 The growth rate of Russia's poultry industry in 2018 was the lowest in the past 20 years, with dozens of companies going bankrupt due to avian influenza (AI), rising costs and extremely low profitability, Global Meat News reports.
The country produced 6.7 million tons (t) of poultry in live weight last year, 0.7% up on the previous year, according to Russia's state statistical service Rosstat. This was the lowest growth rate for the past two decades.
In January 2019, poultry production in Russia shrank by 3.8% compared to the same month the previous year to 502,000t, official data shows.
Poultry production has been falling in Russia's European region, including in the central federal district where it dropped by 4.6% against the previous year to 198,000t and in the southern federal district where it slumped by 32% to 37,000t, Rosstat added. The southern district was the region worst affected by the AI epidemic in 2018. In the previous year, Russia registered 37 AI outbreaks, while in 2018 this figure jumped to 82. The epidemic has brought heavy financial losses to many major poultry producers, including major Russian turkey manufacturer Eurodon.
Poultry farms in Russia continued to go bankrupt despite a strong rise in wholesale prices for broiler meat in the past few months. In 2018, the average price increased by 28% to 117,200 rubles ($1,770) per t, according to the Ministry of Agriculture. This was the strongest price hike since 2014, when the Russian Government introduced the food embargo, barring poultry imports from the European Union and the U.S.
However, there was also a strong increase in costs across the poultry industry. In 2018, the average price of poultry feed increased by 35-45%, feed additives by 10-20% and diesel fuel by 10-15%, according to Tatiana Mariyna, a Russian agricultural industry analyst.
For instance, one of the biggest poultry producers in Russia's Far East region, Dalnevostochnaya Pritsa, has recently gone bankrupt and, as the regional government explained in a statement released in early March, the problems were due to the rising costs of feed grains and increasing charges for their delivery by rail.
The growing tension in Russia's poultry industry could be partly eased by higher export sales, Lyubov Burdienko, commercial director of Russian consulting agency EMEAT, told Global Meat News. Just recently, Russian agricultural holding Miratorg began exporting poultry meat to China, and other major meat manufacturers are also working hard to expand their overseas sales.