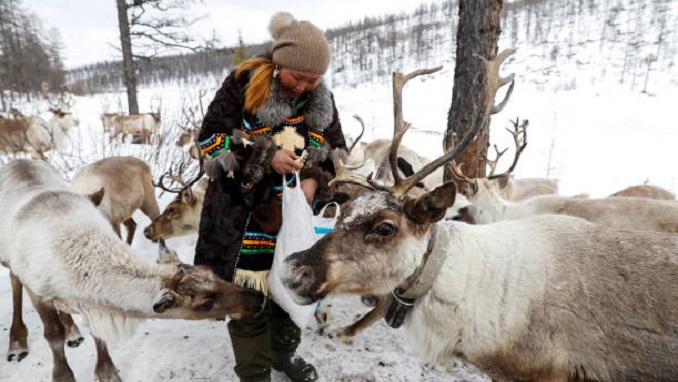 Russia's largest republic in the Far East, Yakutia, is currently using only 42% of its potential to cultivate deer farming, the Head of Yakutia's Agriculture Academy (YSAA) Ivan Sleptsov has said, adding the industry's further development may bolster the export of biologically valuable materials.
"Russia's natural reindeer pastures occupy 335.2 million hectares, which is 19.6% of the territory, where the tenth part is located in Yakutia," he said. "Potentially, 37 million hectares could be sufficient for 371,000 animals – in other words, the republic has been using only 42.2% of the sector's potential, not to mention other factors," Sleptsov said, according to TASS news agency.
The expert stressed that Russia can boost the capacity of the deer industry thereby building up the country's export. Deer products (meat, milk, pelts, horns, blood, and endocrine materials) have many valuable features, which have not been studied thoroughly, he continued.
"With the full use of the sector's potential, its meat production may increase by 5-6 times, thus, in the future, the importance of reindeer husbandry as a source of valuable biological materials will and should grow," he said.
The Russian Federation's terrain may be sufficient for breeding nearly three million animals. Thus, the industry may produce 223,000 tons of meat, and an important factor is that this sector does not require building special farmhouses, nor does it need electricity or heating, the expert told the forum.
Yakutia's livestock currently comes to 157,000 reindeer. The Sakha Republic, as it is also called, occupies nearly 1.2 million square miles, which makes it larger than Argentina and just smaller than India. The vast region is known for its extreme and severe climate, with the lowest temperatures in the Northern Hemisphere recorded in Yakutia. Diamond, gold, and tin ore mining industries are the major focus of the Yakutian economy.