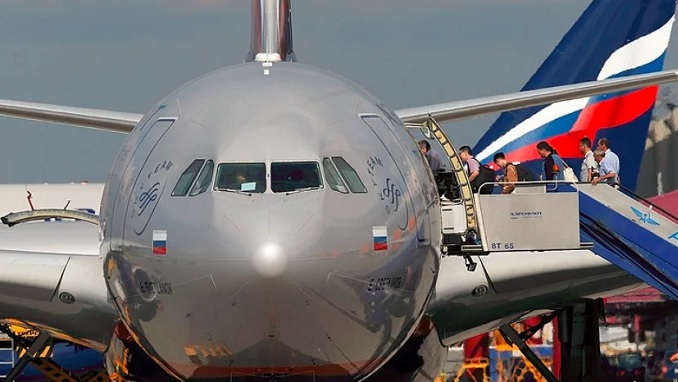 The announced Russian ban on flights to neighboring Georgia has come into effect, as the Caucasus nation normally welcoming a million Russian tourists a year is bracing for crippling losses this summer season, TASS reports.  
Aeroflot's flight SU 1893, which departed from Tbilisi on Monday, has landed at Sheremetyevo Airport, according to the airport's online information. It was the last flight of a Russian airline company from Tbilisi. 
The flight ban is posing a serious economic challenge for the Caucasus nation of 3.7 million people. The travel blockade, which affects all Russian and Georgian airlines operating between the two countries, was activated on Monday, in the middle of the high tourist season and about two weeks since it was announced in response to anti-Kremlin protests in Tbilisi.
The demonstrations were rooted in anger at a visit of a Russian legislator, Sergei Gavrilov, who gave an address from the Georgian parliamentary speaker's chair.
Along with the ban, Moscow imposed tight controls on Georgian wine imports, recommended travel companies to stop selling holiday packages to Georgia and advised Russian tourists visiting the country to return home, claiming that "Russophobic hysteria" made the country dangerous for citizens.
Ghia Nodia, political analyst in Tbilisi, told Al Jazeera that the move was completely inadequate as Russian tourists were not in "any danger at all", saying Moscow wanted to impose a sanction over the protests and used the security pretext as an excuse.
"It thinks that it is a painful punishment. In Russia, it's a prevalent idea that Russian tourists are a very important source of income for the Georgian economy. It might be a certain challenge, but I don't think that it is a very hard one," said Nodia.
He said it was still unclear how effective the measure would be because Russian tourists could still reach Georgia via indirect flights and by land.
"Moscow might be hoping that a certain part of the Georgian society will go against the [anti-Kremlin] demonstrators, blaming them for the loss of a source of income. Maybe they are after prompting the cultivation of pro-Russian sentiments this way, but I don't think this hope will come to fruition," he added.