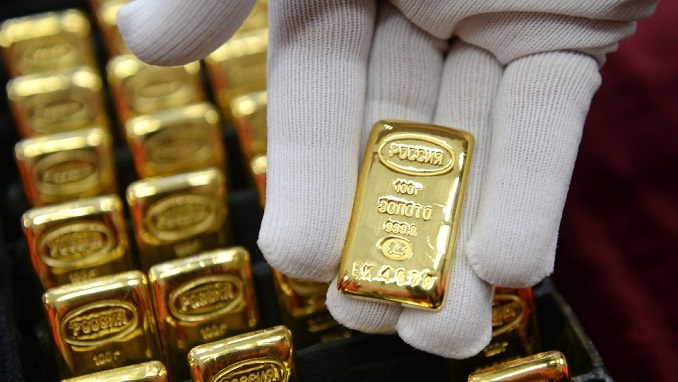 The Bank of Russia has bought almost 106 tons of gold in the first half of this year, which increased the country's overall international reserves to more than 2,000 tonnes, Rossiyskaya Gazeta reports.
According to the newspaper, if the central bank continues buying gold at this pace, Russia's reserves will beat the Soviet record in three years.
The Russian regulator has been steadily buying gold since 2008 when the reserves stood at less than 500 tons. The share of this precious metal in Russia's international reserves is also growing: over the past ten years, it has risen from 2.5% to 17%.
The Soviet Union's gold reserves reached their maximum (2,800 tons) in 1941.
Otkritie analyst Timur Nigmatullin says Russia can expect to move from fifth to third place in the world after the U.S. and Germany in terms of monetary gold in some 10 or 15 years.
Russia uses gold as a means of protection and diversification of its investments. After the April round of U.S. sanctions, the Bank of Russia cut investments in the U.S. government securities six-fold, decreasing the share of dollar assets in reserves in favor of gold.
However, it is impossible to totally give up dollar assets, as the central bank's reserves should reflect the structure of trade relations, the expert stressed.
Russian ownership of U.S. Treasury bonds dropped from $96.1 billion in March to an 11-year low of $14.9 billion in May, the latest U.S. Treasury figures show.