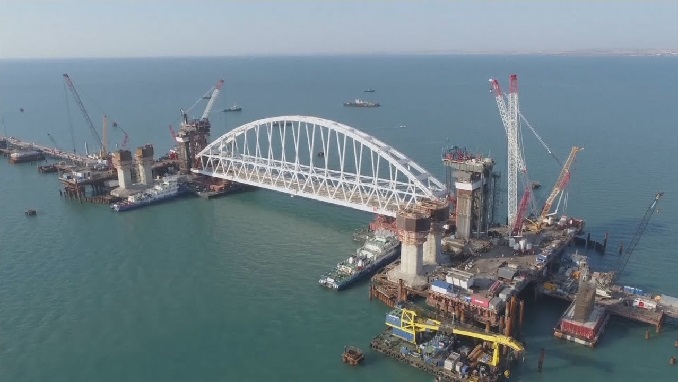 The Crimean Bridge, a controversial project connecting the Kerch Peninsula of annexed Crimea and Russia's Krasnodar region will be opened on May 15 or a day later, as the exact date depends on the schedule of Russian President Vladimir Putin, who will attend the opening ceremony, Gazeta.ru reported.
The 12-mile bridge was envisioned as a joint Russia-Ukraine project before relations between the two countries deteriorated in 2014. The Ukrainian side has withdrawn from the treaty with Russia on the construction of the bridge after the annexation of Crimea. Russia continued with the project, awarding the contract for the construction of the bridge, estimated between $1.5 and $3 billion, to billionaire Arkady Rotenberg's SGM Group.
Ukrainian President Petro Poroshenko later threatened to sue Russia for the environmental damage brought by the construction of the bridge.
The project has been under criticism from the West, which says it is another way for Russia to disrupt Ukraine's economy. U.S. Ambassador to Ukraine Marie Yovanovitch has said that the construction of the bridge could interfere with Ukraine's transport connection with international markets.
Earlier this month, prosecutors in the Netherlands opened a criminal investigation into seven Dutch companies and their managers for allegedly breaching European Union sanctions against Moscow, by helping Russia build the Crimean Bridge.
The companies involved are alleged to have supplied machines, machine parts and other services for the project, which represented a violation of sanctions imposed by the European Union after the annexation of the Crimean peninsula by Russia in 2014, the prosecutors said, "This is a serious offense, undermining the EU sanction regime," the prosecutors said in a statement.