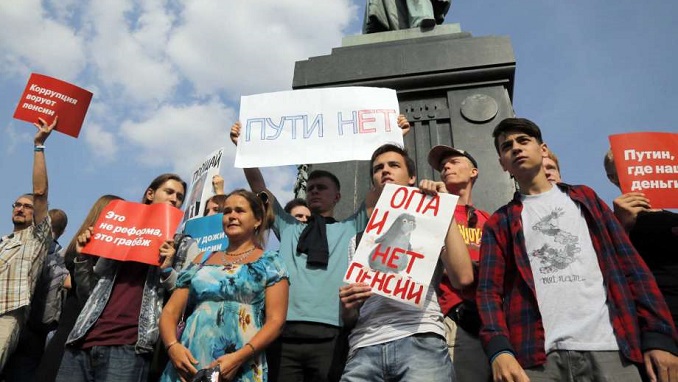 More than 1,000 people were reportedly detained Sunday as thousands of anti-Kremlin demonstrators took to the streets in Russia to protest the government's plan to raise the retirement age in rallies coinciding with regional and local elections nationwide, The New York Times reports.
The protests triggered tense confrontations with police and may have contributed to the low voter turnout across the country, reported at 28 percent two hours before polls closed.
The Russian news portal OVD-Info, which tracks the arrest of protesters, said at least 1,018 demonstrators were detained at protests in 33 towns and cities across Russia. The largest number was in St. Petersburg, Russia's second-largest city, where 452 demonstrators were held, the website reported.
The rallies were announced last month by opposition politician Aleksei Navalny, who is currently serving a 30-day jail sentence for what authorities call violations of the law on public gatherings related to street rallies in January.
The elections, which included a vote on executive-branch heads in 21 of Russia's 85 administrative areas, was the first major test for the government of President Vladimir Putin and Prime Minister Dmitry Medvedev since it proposed raising the retirement age.
The original plan would have increased the retirement age for men from the current 60 to 65, and from 55 to 63 for women. Later, Putin modified the proposal so women would retire at age 60.
According to various polls, about 90 percent of Russians oppose the plan to raise the retirement age, and a recent poll by the Levada Center polling agency found that more than 50 percent of Russians say they would participate in protests against it.