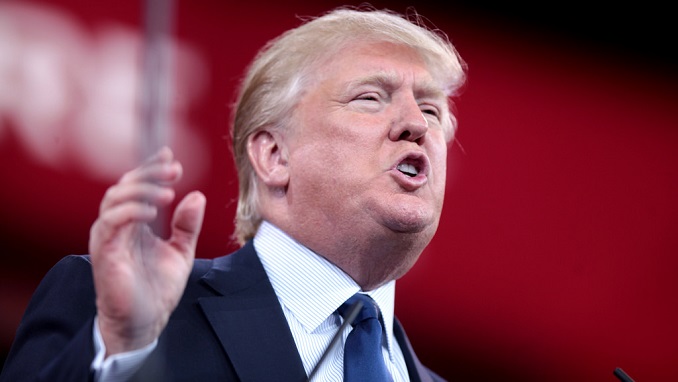 U.S. President Donald Trump on Wednesday said the U.S. could aid Russia's economy and sought an end to what he called an "arms race," lamenting that relations with Moscow had reached an all-time low.
Earlier on Wednesday, in a tweet, Trump said the U.S.-Russia relationship is "worse now than it has ever been … There is no reason for this" and urged cooperation, just days after the United States imposed major sanctions on a number of Putin's allies.
"Russia needs us to help with their economy, something that would be very easy to do, and we need all nations to work together. Stop the arms race?" Trump wrote.
Trump then turned to U.S. special counsel Robert Mueller's investigation, blaming it for the destabilizing of U.S.-Russia relations.
"Much of the bad blood with Russia is caused by the Fake & Corrupt Russia Investigation, headed up by the all-Democrat loyalists, or people that worked for Obama. Mueller is most
It was not immediately clear what economic steps the president was referring to, and representatives for the White House did not immediately reply to a request for comment.
conflicted of all (except Rosenstein who signed FISA & Comey letter). No Collusion, so they go crazy!"
Trump's tweets come amid Washington's strained relations with Moscow in the wake of the 2016 U.S. presidential election, which U.S. intelligence agencies said was targeted by Russia. Moscow has denied any interference, and Trump has denied any collusion.
On Tuesday, it was reported that in early December, President Trump, furious over news reports about a new round of subpoenas from the office of the special counsel, Robert S. Mueller III, told advisers in no uncertain terms that Mueller's investigation had to be shut down.
The president's anger was fueled by reports that the subpoenas were for obtaining information about his business dealings with Deutsche Bank, according to interviews with eight White House officials, people close to the president and others familiar with the episode. To Trump, the subpoenas suggested that Mueller had expanded the investigation in a way that crossed the "red line" he had set last year in an interview with The New York Times.