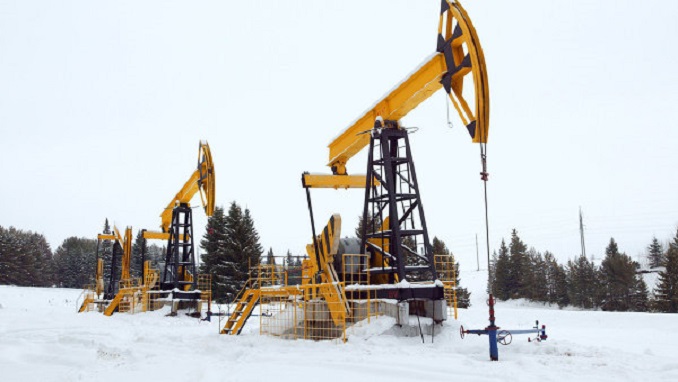 Russia's Finance Ministry is expected to increase purchases of foreign currency in February to a record high as oil prices rise, analysts told Reuters.
The median forecast of eight analysts polled by the news agency was for the ministry to buy an equivalent of 292.5 billion roubles ($5.26 billion) between February 7 and March 6, up from a record 257.1 billion roubles in January.
Analysts expect the Finance Ministry to buy an average 13.92 billion roubles per day during this period. The finance ministry is expected to publish the volume of foreign-exchange purchases for February on February 5.
Russia started buying foreign currency early last year to beef up its reserves. On Thursday, President Vladimir Putin said Russia's gold and currency reserves have reached $442.8 billion.
"Gold and currency reserves are kept at a high level. They have grown recently and amounted to $442.8 bln," the president said at a meeting with representatives of the economic council of the French-Russian Chamber of Commerce and Industry (CCI France Russie).
"The main factor of the increase (of purchases) was the rising Urals price," Stanislav Murdashov, an analyst with Raiffeisen Bank, said.
The Urals, Russia's blend of crude oil, was trading at $67.84 a barrel on Thursday. Brent crude (LCOc1), the global benchmark, was at $69.53 after climbing to three-year highs over $71 per barrel at the end of January.
Russian Finance Minister Anton Siluanov has said his ministry planned to increase purchases of foreign currency in 2018, spending a total of around 2 trillion rubles if Urals prices are at $54 to $55 per barrel.
Being heavily reliant on oil prices, the Russian government made a deal with the Organization of the Petroleum Exporting Countries (OPEC) last year to cut oil production in order to increase prices. Last month, OPEC and non-OPEC producers led by Russia agreed to extend the oil output cuts until the end of 2018.
Russia needs much lower oil prices to balance its budget than OPEC's leader Saudi Arabia, which is preparing a stock market listing for national energy champion Aramco next year and would hence benefit from pricier crude.