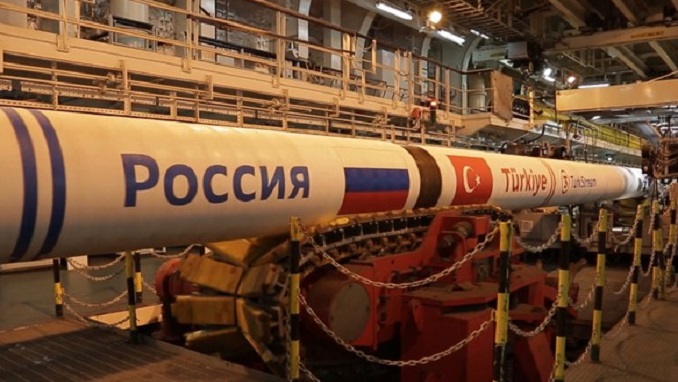 More than half of the first line of the TurkStream natural gas pipeline project, intended to deliver over a third of Turkey's gas needs has been completed, Gazprom officials said.
According to Yeni Safak, representatives of the project constructor gave the statement in Novy Urengoy, the world's second-biggest gas field, located in northern Russia.
Gazprom is the owner of the South Stream Transport BV, which will construct and operate the pipeline capable of delivering 15.75 billion cubic meters of Russian gas to Turkey annually.
During a Turkish journalists' visit to Novy Urengoy, officials said the project is progressing well with first delivery to Turkey planned before the end of 2019.
Novy Urengoy is close to the autonomous district in the northern Russian arctic. The region currently holds 12 trillion cubic meters of natural gas reserves and is almost totally dependent on the natural gas industry.
The TurkStream project starts from the southern Russian town of Anapa on the Black Sea coast and will continue onto Kiyikoy in the Thrace region of Turkey.
The South Stream Transport BV company announced in early January that the building works for the Turkish onshore section of the TurkStream project kicked off with the construction of a receiving terminal for offshore gas pipelines.
Furthermore, 224 kilometers out of a total of 930 kilometers for the second line have been constructed. The second line plans to carry 15.75 billion cubic meters of gas to Europe.
Gas transfer is planned from the Ipsala border to European Union countries, although the definitive route of the second line has not been determined yet. However, negotiations with countries that are interested in the project are ongoing.
The TurkStream project is seen as contributing to Turkey's and the region's energy security since it will deliver gas without transit risks. Gazprom plans to invest 182.4 billion rubles ($3.2 billion) this year in the project.