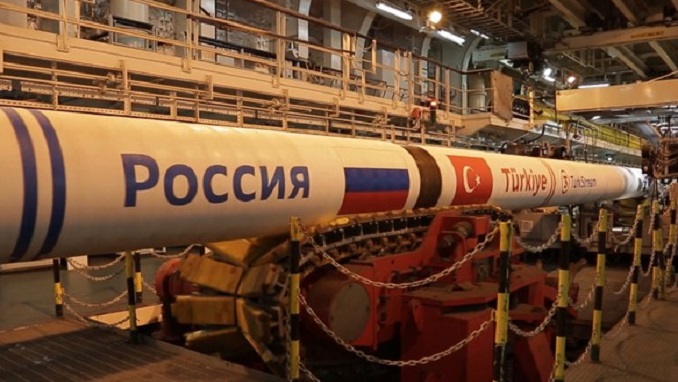 Russian President Vladimir Putin said on Wednesday that Bulgaria seems to be holding up the construction of Gazprom's TurkStream gas pipeline on its territory and added the country could be bypassed if needed, Reuters reports.
Putin was speaking in the Russian Black Sea city of Sochi following talks with Serbian President Aleksandar Vucic.
Bulgarian Prime Minister Boyko Borissov denied any deliberate delays and blamed the hold-up on the late start of construction three months ago and strict European Union procurement rules followed by Sofia to ensure the project would not be blocked by Brussels.
Russia is building TurkStream in two lines, with 15.75 billion cubic meters (bcm) annual capacity each; the first leg is aimed at supplying Turkey and the second one would run further from Bulgaria to Serbia and Hungary.
Russia plans to start the first line next month but the launch of the second one depends on building the requisite gas infrastructure by Bulgaria, Serbia and Hungary. TurkStream and Nord Stream 2 are essential for Moscow to continue gas exports to Europe as Russia wants to suspend transit via Ukraine.
Vucic on Wednesday told Putin that Serbia has almost completed the construction of the TurkStream on its territory.
The first phase of the pipeline, to supply Turkey, is expected to go online in the first days of January 2020. The Russian president will visit the country on Jan. 8 to participate in the launch of the project, Kremlin spokesman Dmitry Peskov told reporters on Monday. The second section is expected to be completed in 2020.
Of the two onshore lines, one is being built by Turkey's state-owned oil and gas trading company, Petroleum Pipeline Corporation (BOTAŞ) to connect to the Turkish grid. A BOTAŞ-Gazprom joint venture is building the second line toward Europe.
The project is the largest-diameter offshore gas pipeline in the world laid at such depths. The world's biggest construction vessel, the Pioneering Spirit, carried out the deep-sea pipe laying.