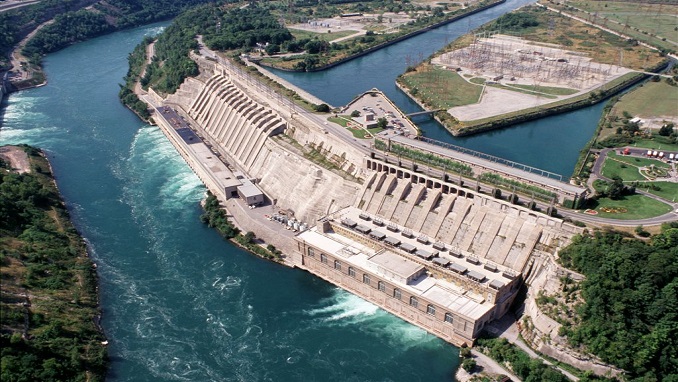 The Nizhne-Bureyskaya hydroelectric plant, the most powerful in Russia, the construction of which began in the post-Soviet period, was put into commercial operation in the Amur Region.
"The Nizhne-Bureyskaya hydroelectric station was put into commercial operation, the station reached its design capacity of 320 MW," PJSC RusHydro told RIA Novosti.
The chairman of the board – the general director of RusHydro Nikolai Shulginov and the governor of the Amur Region Vasily Orlov took part in the ceremony.
The Nizhne-Bureyskaya plant is the second stage of the Bureyskaya hydropower complex, the largest electric power facility in the Far East. The station is connected to the Bureyskaya HPP located above. The Nizhne-Bureyskaya plant is its counter-regulatory – it evens out uneven water flows of the Bureyskaya HPP during the day, allowing it to work without restrictions.
The average annual output of the Nizhne-Bureyskaya hydroelectric station will be 1.67 billion kWh. Electricity will be sent to the integrated energy system of the Far East and will provide energy to both existing consumers, such as the Vostochny Cosmodrome, and large-scale infrastructure and industrial projects currently underway: the Power of Siberia gas pipeline and the Amur Gas Processing Plant.
Among other things, the Nizhne-Bureyskaya plant will help protect settlements from flooding. Four hydroelectric units of 80 MW each, manufactured by the Russian concern Power Machines, are installed in the hydroelectric building.
With the assistance of hydropower engineers, the Bureisky nature park was formed in the influence zone of the Nizhne-Bureyskaya hydroelectric power station reservoir, where feeding grounds for ungulates were organized to divert wild animals from the future flood zone, and artificial nests for the rare mandarin duck were placed. For the first time in Russia, during the filling of the reservoir, an operation was carried out to rescue wild animals from the flood zone and transfer rare plants.