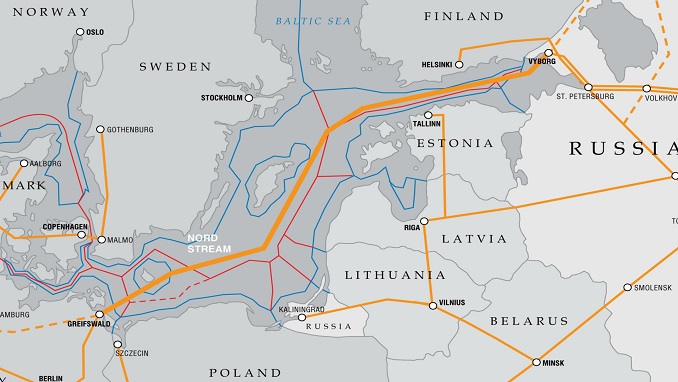 Several Eastern European countries have stepped up their opposition to the planned Nord Stream 2 gas pipeline linking Russia with Germany, VOA News reports.
The project would bring Russian gas directly to Western Europe and double Russia's capacity to pipe gas across the Baltic Sea to Germany and beyond, to 110 billion cubic meters per year.
But critics say the $11 billion project will increase dependence on Russia and enrich its state-owned energy firms, at a time when Moscow stands accused of undermining European security.
Nord Stream 2, a 1,225-kilometer pipeline bypassing Ukraine and the Baltic states, is on schedule for completion next year. It is a private project backed by Russian state-owned Gazprom and five energy companies from Germany, France, Britain and the Netherlands. It also has the strong backing of the German and Russian governments.
"We support the implementation of this project which is undoubtedly, absolutely free from politics. This is a purely economic and moreover purely commercial project," Russian President Vladimir Putin told reporters after meeting the Austrian chancellor, Sebastian Kurz, last week in Moscow. Kurz also offered his support for the project.
On Wednesday, the CEO of one of the companies involved, Germany's Wintershall, said attempts to block implementation of the Nord Stream 2 gas pipeline project "do not meet European interests.
"Certain East European countries attempt to disrupt implementation of the Nord Stream 2 and put pressure on Brussels. And such tricks are made there that they become a subject matter of criticism for the internal legal service. This may be a political consideration but it definitely does not meet interests of European consumers," Mehren said.
Poland and Lithuania, which vehemently oppose Nord Stream 2, have argued that any additional revenues for Russia from Nord Stream 2 would soften the impact of sanctions. Many Eastern European states also question whether the new pipeline will benefit them economically, says Noah Gordon, an analyst at the Center for European Reform, a London-based research group.
"There could be bottlenecks through central Europe and Eastern Europe, and those places could see prices rise and they might be more exposed to a Russian political gas cutoff. Ukraine would lose about $2 billion a year in transit fees."
Currently, more than half of Russian gas exports to Europe are routed through Ukraine. Supporters of Nord Stream 2 say it would increase security of supply, citing recent price disputes between Moscow and Kyiv.
The EU hopes to mitigate the risk of increased dependence on Russia by investing in connecting pipelines across European borders.