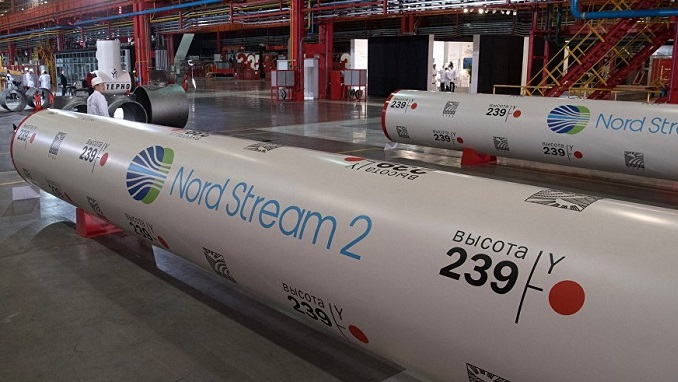 The developer of the Nord Stream 2 gas pipeline said July 20 the investments needed to complete the 55 Bcm/year link could be blocked if the U.S. imposed sanctions against companies involved in the project, S&P Global informed.
In a hardening of its position against Russian energy export projects, the U.S. State Department on July 15 updated part of its Countering America's Adversaries Through Sanctions Act (CAATSA) legislation from August 2017.
Companies involving in building the Nord Stream 2 link to Germany and the second line of the TurkStream pipeline to southern Europe — both still under construction — can now be targeted, whereas before they were exempted from potential measures under the CAATSA legislation.
European opposition to the latest U.S. move has become increasingly strong in recent days, with the EU and governments of individual member states again saying European energy policy was a matter for Europe alone.
Congress is also considering another iteration of Nord Stream 2 sanctions, called the Protecting Europe's Energy Security Clarification Act, which would target more companies involved in building the project's final segment, including vessel insurers and service companies doing surveying, trenching, welding and other tasks.
In emailed comments, a Nord Stream 2 spokesman said U.S. sanctions — if imposed — could directly hit more than 120 companies from more than 12 European countries.
"In an economically difficult time, the sanctions would block investments of around Eur700 million ($800 million) for the completion of the pipeline," the spokesman said.
"These sanctions would also undermine investments of approximately Eur12 billion in EU energy infrastructure," he said.
That is made up of Eur8 billion in investments in Nord Stream 2 as well as a further Eur3 billion in investments by European companies in downstream infrastructure in Germany and Eur750 million in the Czech Republic.
Any sanctions to be imposed under the terms of the CAATSA legislation are discretionary, however, and can only be imposed after coordination with U.S. "allies".
Asked directly whether work on completing Nord Stream 2 would be suspended as a result of the latest sanctions guidance, the project spokesman said: "Nord Stream 2 is a fully permitted project, constructed in accordance with applicable national and international legislation."
"A total of over 2,300 km out of approximately 2,460 km of the Nord Stream 2 pipeline had been laid by December 20, 2019, when our contractor Allseas was forced to suspend the pipelay due to the threat of sanctions by the U.S.," he said. "Therefore, we are forced to look for new solutions to lay the remaining 6% of our pipeline."
European stance
Opposition to the sanctions update from the U.S.'s European allies continues to strengthen.
On July 17, the EU High Representative Josep Borrell said he was "deeply concerned" at the growing use of sanctions by the U.S. against European companies and interests.
"As a matter of principle the EU opposes the use of sanctions by third countries on European companies carrying out legitimate business. Moreover, it considers the extraterritorial application of sanctions to be contrary to international law," Borrell said.
The mood among those countries home to five of Nord Stream 2's key investors has also become increasingly reactive.
Five European energy companies — France's Engie, Austria's OMV, Anglo-Dutch Shell, and Germany's Uniper and Wintershall Dea — have co-financed the project, each committing to pay Eur950 million.
German foreign minister Heiko Maas said that by announcing measures that threaten European companies with sanctions, "the U.S. Administration is disrespecting Europe's right and sovereignty to decide itself where and how we source our energy".
"European energy policy is decided in Europe and not in Washington," Maas said.
Austria's foreign ministry said it too rejected U.S. moves to threaten extraterritorial sanctions against Nord Stream 2. "Among trusted partners, we believe in direct talks, not unilateral measures," it said.
France went a step further, with a parliamentary official calling on the EU to react.
"It is time for Europe to assert its power. It cannot tolerate such an attack on its energy sovereignty," Claude Kern, rapporteur for the French Senate Committee on European Affairs, said July 17.
The committee said there was no legal justification for "U.S. interference" with companies operating on European soil and that the U.S. may "in no way" sanction companies operating in the EU in accordance with the law of the EU and its member states.
Not all of Europe is unhappy with the U.S. policy, however. Ukraine's Naftogaz said it welcomed the latest sanctions guidance.
"This decision demonstrates U.S. continued support for Ukrainian and European security," it said. "Naftogaz will continue to work closely with U.S. and European partners to counter Nord Stream 2 and protect the collective interests of the transatlantic community."
Nord Stream 2 is crucial to Russian plans to scale down from 2021 the use of the Ukrainian transit corridor in its gas supplies to Europe.