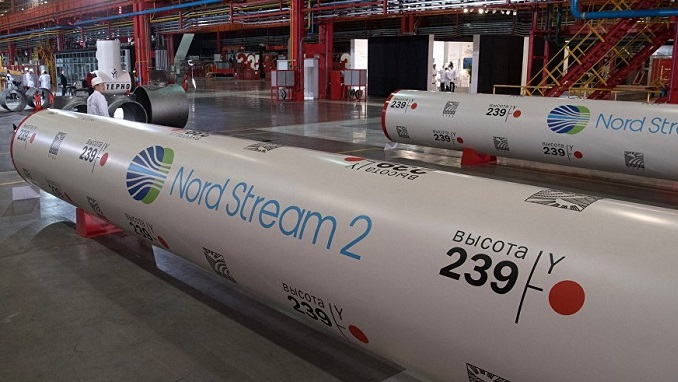 Moscow is ready to consider other routes for the Nord Stream 2 gas pipeline project if Denmark refused to approve its laying in the country's exclusive economic zone, Russian President Vladimir Putin said on Thursday, according to Kommersant.
The business newspaper writes that an alternative route through Sweden's zone is being looked by Russian authorities. This route is technically viable but it would be longer and more costly and would take more time to get approved. This is why the Russian state-run energy giant Gazprom is still focused on the route through Denmark.
Moreover, there is no more need to rush since the company's objective to get the pipeline commissioned by January seems to be unachievable anyway, Kommersant wrote.
For more than two years, Denmark has refused to give Gazprom permission to lay the gas pipeline in its exclusive economic zone, which is de jure in international waters. Although the Scandinavian country only has the right to deny the request due to environmental reasons, the country neither rejects nor backs Gazprom's bids.
The pipeline's construction through Sweden's exclusive economic zone will stretch out the route by at least 100 km, which will increase the project's construction and maintenance costs. But the key problem is that this route will require new permits from Sweden and Germany (because the route in Germany's exclusive economic zone will be also altered).
Sources in the sector estimate that the delay at this stage would be at least a year, so they are not seriously considering this option. Sources familiar with the pipeline's construction affirm that currently there is no groundwork for building the route via Sweden. They say Gazprom still hopes to get Denmark's permission by the end of this year. One of the sources said Putin's remark could help protect Copenhagen from any possible negative reaction by Washington.
"We might say that an effort to freeze the project was doomed to failure since Gazprom still has a chance to lay it through Sweden," he said.