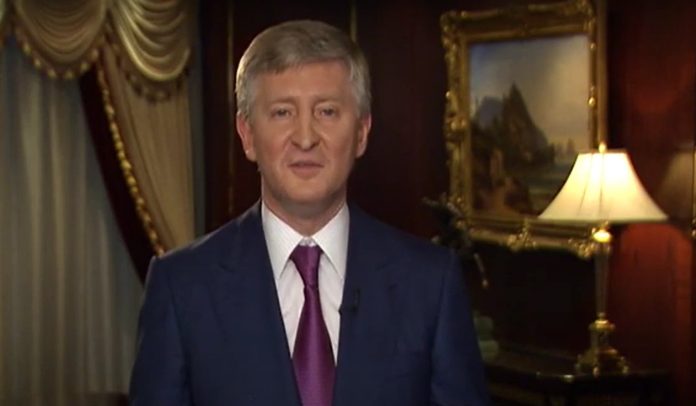 A new lawsuit has been filed in the European Court of Human Rights against Russia in order to seek justice for a mass violation of rights.
Rinat Akhmetov, founder and shareholder Ukrainian business holding System Capital Management (SCM) Group and Ukrainian philanthropist, filed a lawsuit Monday against the Russian Federation for grievous violations of his property rights during Russia's unprovoked aggression against Ukraine.
Russia's unprovoked and horrific war against Ukraine continues to devastate the country and its people. It has caused abhorrent, appalling human suffering, and massive destruction across the country.
The scale of destruction Russia has caused in Ukraine is incomprehensible. The toll against the Ukrainian people that Russia is responsible for cannot be fully determined. Russia's destruction stops at nothing, demolishing the Ukrainian people's food, energy, commodities, homes, businesses, schools, hospitals, lives and livelihoods.
Russia is responsible for an incalculable amount of human suffering. Russia's ongoing invasion is causing irreparable damage to human rights guaranteed to Ukrainian people under the European Convention on Human Rights.
"This is a war aggression, a war crime and a crime against humanity, against my country and the Ukrainians. Now our villages, cities, and towns, infrastructure facilities are being destroyed. The most dreadful part is that peaceful civilians are suffering and being killed," Akhmetov said.
"What is unfolding here is a war crime and a crime against humanity, against Ukraine and the Ukrainians. This can neither be explained nor justified.
"All those responsible for such crimes must be punished," Akhmetov said.
As the founder of one of the largest private businesses in Ukraine and one of Ukraine's most prominent philanthropists and businesspeople, Akhmetov is committed to fighting for justice for Ukraine. With the lawsuit, Akhmetov has demanded that Russia is publicly held accountable for violating the Convention on Human Rights.
The lawsuit also seeks urgent relief for Russia's blockading, looting, destruction and diversion of crucial goods including grain and metals. Russia's war is causing a surging food insecurity around the world, and is blockading the export of commodities foundational to the global economy. Russia's destruction of goods, and its looting of goods, has been well documented, and violates Ukrainian human rights.
The lawsuit marks one of the first international legal steps to be taken against Russia to stop its ongoing crimes and the devastation and destruction of the country. Akmetov is urging the Court to expedite the case. The International community and its institutions that protect human rights need to ensure that the rights and lives of the Ukrainian people are protected.
The legal case against Russia for its violations of human rights extends past the right to property. Russia poses imminent threats to core rights that are guaranteed by the Convention. Ukrainians' right to life is threatened extensively, from legal threats at their homes and workplaces, to agricultural destruction threatening the broader population.
Before Russia invaded, Ukraine was one of the top exporters of wheat, corn, barley, and sunflower oil, with 400 million people relying on Ukraine's exports for their food security. Russia's war has crushed Ukraine's ability to produce the agricultural commodities that support food security within its own borders and worldwide.
Russia is destroying agricultural fields, and blocking the exportation of grain and other crucial needs. Many of the destroyed and looted crops are produced by companies owned by Akhmetov. The targeting of agriculture and food exports shows how willing Moscow is to cause a global famine.
In dual violation of the Convention, Russia continues to destroy and block commodities from being exported, which are of key importance to Ukraine's economy, and Europe's economy as a whole. This has included the destruction of the Azovstal and Ilyich steelworks in Mariupol, operated by one of Akhmetov's companies.
The bombardment of the Azovstal steel complex by Russian military forces has come to be a symbol of Ukrainian resistance, as well as Russia's sheer contempt for international law and human rights. As the owner of Azovstal and other facilities that have been ruthlessly targeted by Russia, Akhmetov seeks to ensure Russia is held accountable.
The postwar reconstruction of Ukraine will be a monumental task. While Russia continues its path of destruction, the overall needs for the reconstruction are not yet known. The cost of Russia's war is expected to exceed $1 trillion, and Ukraine will require unprecedented commitments in order to assist with rapid infrastructure reconstruction as well as economic reconstruction. But it is crucial to begin the efforts now.
"All SCM businesses, FC Shakhtar, and my Foundation are now focused on a single purpose — to help Ukraine win the war, and help Ukrainian civilians survive," Akhmetov said.
Tens of billions of dollars in damage is expected from the ongoing war.
"At SCM, we have been and will continue to be an active player in recovery and reconstruction efforts. We have two key priorities: rebuilding Ukraine's industrial capacities and ensuring its energy independence," Akhmetov said.
"I am confident that, as the country's biggest private business, SCM will play a key role in the post-war reconstruction of Ukraine. A tremendous amount of work lies ahead of all of us — the government, business, and every Ukrainian. We will have to restore human potential of our country, rebuild infrastructure, production and power industry, agriculture, and social facilities.
"I trust that we all will rebuild a free, European, democratic, and successful Ukraine after our victory in this war. On our end, we will spare no expense or effort to achieve this goal.
"The number one thing for us now is to help Ukrainians survive, and Ukraine win."