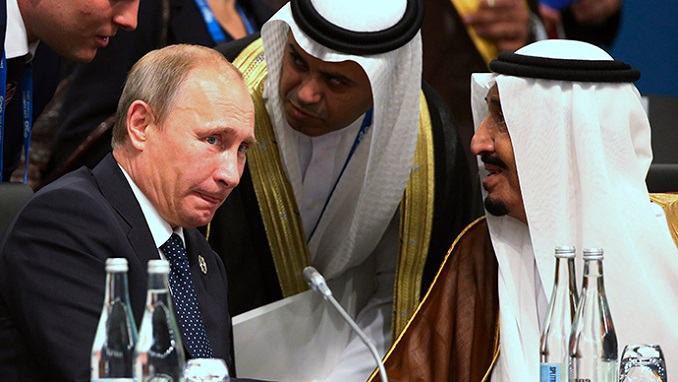 The head of Russia's $10 billion state investment fund has nothing but praise for Saudi Arabia, after a series of signed or announced economic deals underlined the improving relations between the two countries.
"We're at the breaking point in the positive territory of this relationship … We really embarked on an amazing positive journey," Kirill Dmitriev, the chief executive of the Russian Direct Investment Fund (RDIF), told CNBC at the Munich Security Conference on Saturday.
Dmitriev, whose job is to improve investment flows and foreign investor confidence in the Russian economy, pointed to the Russia-OPEC deal to cut oil production as a major benchmark in his country's relationship with the Saudi Kingdom.
"Now we have a great, positive energy deal that stabilized oil prices, and it's good for producers, consumers, good for our economies … We have done a number of investments together, and we are pursuing better a political relationship because of this economic diplomacy."
In October, King Salman was the first Saudi monarch to visit Russia in a historic trip  October, which saw the two countries sign major arms deals worth over $100 billion.
This week, Dmitriev signaled Russia's keen interest in investing in Saudi Arabia's planned initial public offering (IPO) of its state energy giant Saudi Aramco, set to be the largest in the world. He told the media on Thursday that the RDIF could set up a "significant consortium" of Russian banks and investors for the IPO, which the Saudi government believes could be valued at $2 trillion.
"All we can say is that Aramco is a great company, really managed incredibly well, very successful," Dmitriev said. "So there is major interest from investors all over the world, including from investors in Russia and China, and we know that lots of people would like to participate, and as more information emerges on the IPO, there will be major investor interest in it."
Asked where he thought Aramco might be listed — President Donald Trump has expressed his interest in a listing on the Nasdaq — the investment chief said that was up to Aramco, adding, "All we can say is it's a great company."
On Monday, Russia's Novatek and Saudi Aramco signed a memorandum on the development of international cooperation and joint investments in the gas sector, the Russian natural gas producer said on Monday.
"We see high prospects of mutually beneficial strategic partnership with Saudi Arabia. Our company has proficient reserves of natural gas and the unique experience of implementing LNG projects in Arctic Russia. Novatek's strategy provides for growth of LNG production at a quick rate with the engagement of international partners and we welcome the interest of such a globally significant company as Saudi Aramco in cooperation on the global gas markets," Novatek CEO Leonid Mikhelson said.