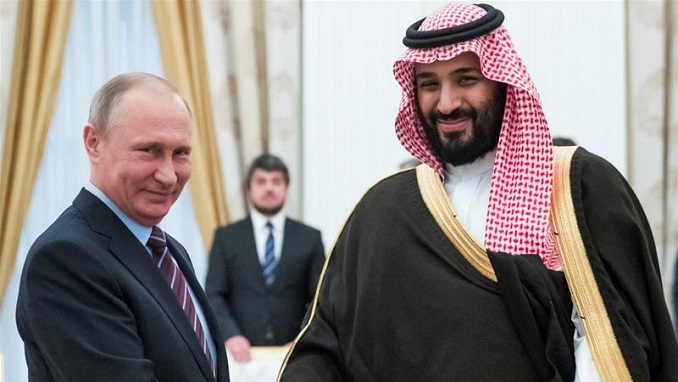 Saudi Arabia and Russia are working on a long-term deal to extend their alliance on oil curbs that began in January 2017, after a crash in crude prices, Al Jazeera reports.
Saudi Arabia has led the Organization of the Petroleum Exporting Countries (OPEC) and allies outside the cartel to join forces to stabilize oil prices.
"We are working to shift from a year-to-year agreement to a 10-20 year agreement," Saudi Crown Prince Mohammed bin Salman told Reuters. "We have an agreement on the big picture but not yet on the details."
Russia, not a member of the Organization of the Petroleum Exporting Countries, has worked alongside the 14-member group during previous oil gluts, but a 10 to 20 year deal between the two would be unprecedented.
Oil prices collapsed to below $30 a barrel in 2016 from over $100 in 2014. Crude has since recovered to $70 but the fast-rising output from U.S. shale producers has capped prices.
"This is all about whether the arrangement is a short-term expedient to deal with this particular crisis in the oil market, or whether it reflects a realignment in world oil," said oil historian Daniel Yergin, vice chairman at consultancy IHS Markit.
"OPEC countries want to find a way to institutionalize this relationship rather than to have it be a one-shot deal."
Following King Salman's interview, OPEC said it is backing the long-term deal.
"OPEC is working on a "very long-term" deal to try to extend its alliance with other oil producers", Secretary General Mohammad Barkindo said at an energy conference in Baghdad, Iraq on Wednesday.
Last October, Saudi King Salman became the first Saudi monarch to visit Russia, providing investment and political support for Russian economy battered by Western sanctions.
A meeting between the Saudi crown prince and Russian President Vladimir Putin on the sidelines of a G20 meeting in China in 2016 was instrumental in bringing Russia on board to support OPEC and non-OPEC oil curbs.