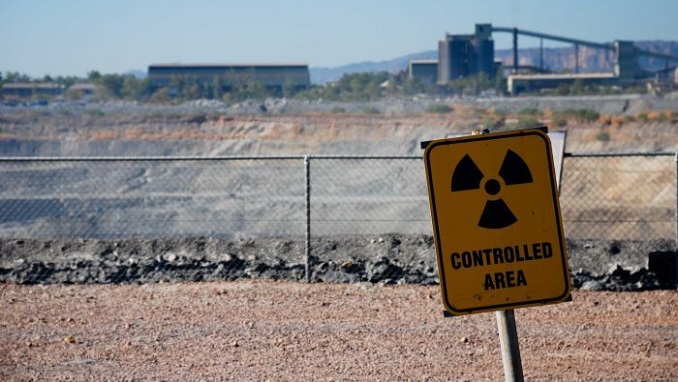 Two Colorado uranium producers are asking Donald Trump to crack down on imports from Russia and central Asia in the name of U.S. national security, arguing the country has lost its ability to meet the needs of its nuclear weapons stockpile, naval vessels, and power plants.
In a petition filed with the U.S. commerce department, the two companies, Energy Fuels and Ur-Energy said the U.S. industry had been decimated by competition from state-backed producers in Russia, Kazakhstan, and Uzbekistan. They also warned that China was emerging as an increasingly important uranium producer and exporter, according to the Denver Business Journal.
The step comes just weeks after the Trump administration labeled China and Russia as the US's two major rivals in a National Security Strategy and as President Trump gears up to announce new trade measures against Beijing.
It coincides with recent moves by Washington that have benefited the uranium mining industry, including a move to scale back the Bears Ears National Park in Utah which has a number of uranium mines abutting it.
But it also comes amid a continuing firestorm in conservative media over what Trump and others have alleged was rival Hillary Clinton's role in helping to approve the 2010 sale of major domestic producer Uranium One to Russia's Rosatom. Investors in Rosatom had made donations to the Clinton Foundation.
It is "conceivable," the companies said, that a similar supply disruption could be triggered in the U.S. by "sanctions or other geopolitical developments."
In addition, international treaties require that the uranium used for US defense purposes – such as for the production of tritium, a radioactive gas used to boost the explosive power of nuclear weapons – be sourced from the US. "Unless steps are taken now to foster a healthy domestic uranium mining industry, the defense stockpiles currently held by the DOE will be depleted, and it is unlikely that domestic producers will have sufficient capabilities to meet our defense needs in the future," they said.
In its annual uranium marketing report released June 19, the U.S. Energy Information Administration said that uranium from Kazakhstan, Russia and Uzbekistan accounted for 38% of the U3O8 used in the U.S. in 2016. Uranium was also imported from Australia, Brazil, Bulgaria, Canada, China, Czech Republic, Germany, Malawi, Namibia, Niger, South Africa and Ukraine, the report said.