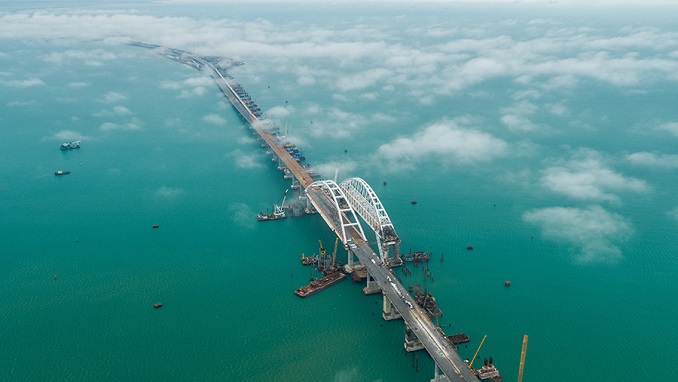 The European Union has decided to impose sanctions against six more Russian entities for being involved in the recent construction of the Kerch Strait Bridge — a 19-kilometer-long bridge linking the mainland of southern Russia with the Crimean Peninsula, Interfax Ukraine reported.
The unnamed companies will be added to the EU's asset freeze and visa ban list. According to Brussels, Russia's construction of the bridge since Moscow illegally annexed the Crimean Peninsula from Ukraine has contributed to the destabilization of Ukraine's territorial integrity.
EU officials who spoke to RFE/RL on condition of anonymity said a formal decision to add the six entities to the sanctions list is expected in the coming days. At present, the sanctions list contains the names of 155 individuals from Russia and Ukraine and 38 entities.
The Kerch Strait Bridge was opened for cars and buses in May, with Russia's President Vladimir Putin driving a red truck across the 12-mile-long structure. It contains a four-lane highway and two lines of railway tracks that are still under construction.
According to the Washington Post, the $3.7 billion bridge directly linking Russia to Crimea gave Putin a propaganda victory that drew condemnation from the West and served as the latest demonstration of his personalized system of power.