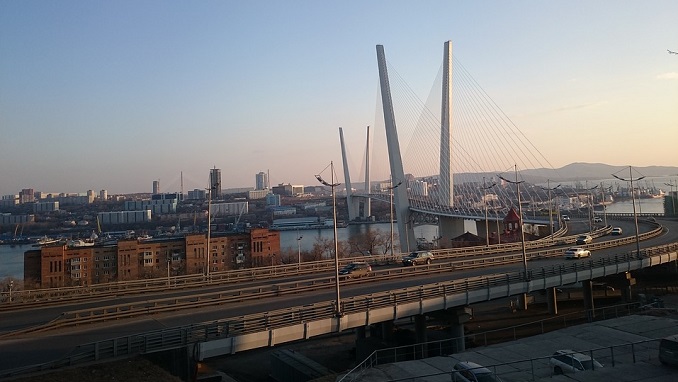 The Japanese government will present Russia a plan to modernize urban infrastructure in Russia's Far East port of Vladivostok with the use of Japanese technologies, including improving traffic flow, rebuilding tourist facilities and developing areas around railway stations, Nikkei reported on Sunday. The newspaper said this plan had been prepared in the run-up to Prime Minister Shinzo Abe's visit to Russia in May and will soon be handed over to the Russian side.
By expediting the bilateral economic partnership plan in the region, the Japanese government aims to elicit a positive attitude from the Kremlin toward advancing negotiations on the disputed Northern Territories, known as the Southern Kurils in Russia.
Russian President Vladimir Putin positions the development of Siberia and the Far East as that country's "national priority for the 21st century."
Under his plan to make the dilapidated port of Vladivostok the key city of the Far East, it has been chosen as the venue for the Eastern Economic Forum convening dignitaries from around the world. Development, including a casino project, is underway to make it the economic and tourism hub.
Tokyo decided to come up with the offer as part of the eight-point economic cooperation plan between the two countries and on the basis of the agreements reached during Russian President Vladimir Putin's visit to Japan in December 2016.
A similar project is proposed for implementation in the city of Voronezh in western European Russia.
In recent years, Russia and Japan have maintained intensive dialogue at all levels, including regular meetings between the two countries' leaders. The basis for the development of economic cooperation between Moscow and Tokyo is the eight-point plan proposed by the Japanese prime minister in May 2016.
Besides the improvement of urban infrastructure, the Japanese government wants to establish tourism facilities and redevelop areas near train stations in Vladivostok. It also plans to propose the implementation of Japanese-style waste incineration plants, which lessen the impact on the environment, including reducing air pollution.