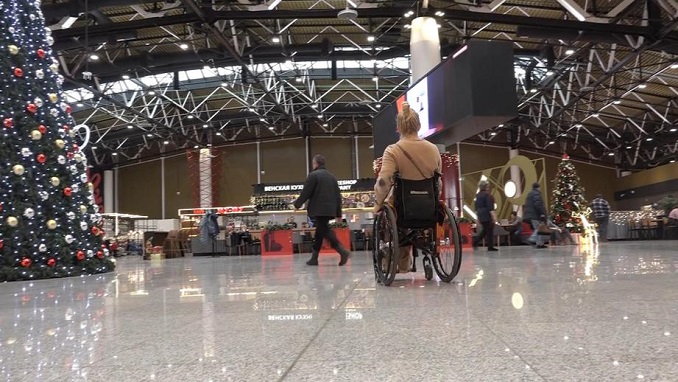 On the International Day for People with Disabilities, journalists were given a press tour of Sheremetyevo Airport. This year, in almost all of the terminals before the World Cup in Russia started, barrier-free infrastructure was updated and an additional Mercury luxury hall was opened, 360tv.ru informed.
In the new hall, there can be up to 20 visitors at the same time, and the room has been equipped with a medical couch for assistance, a children's area and special chairs. Additionally, there is a game console and stationary computers with Internet access.
In the Terminal B halls there are tactile navigation, information stands in Braille, spacious elevators and ramps, and also more than 50 so-called "alarm buttons", which serve to call the airport staff.
During 2018, Sheremetyevo Airport served about 178,000 passengers with disabilities, which is a 25 percent increase compared to 2017.
In addition, a festive concert was held, where members of the Khimki branch of the Russian Society of People with Disabilities were presented with letters of gratitude for their contribution.
There are more than 15 thousand people with disabilities living in Khimki, and at the same time, its urban district is among the leading districts in the Moscow region for creating barrier-free urban space, 360tv.ru added.