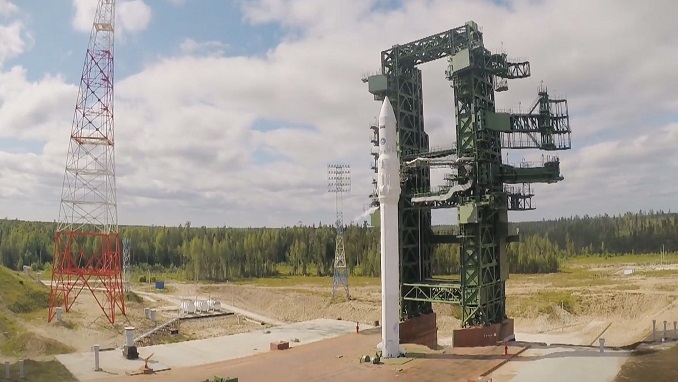 Contracts for the construction of 12 Angara A5 heavy lift launch vehicles were signed by the Khrunichev State Research and Production Space Center, a Moscow-based company, the spacecraft maker's Chairman of the Board of Directors Nikolai Sevastyanov said in an interview with business newspaper Kommersant.
"Currently, 12 contracts for the construction of Angara-A5 missiles have been concluded. However, we must bear in mind that until 2027, about 27 launches of the Angara-A5 will be needed to update the Russian orbital group," he said.
After 2024, Sevastyanov says, plans are in store to launch eight Angara-A5 missiles and two Angara-1.2 light missiles per year. In addition to the construction site in Omsk, the Moscow Rocket and Space Plant in Fili will manufacture heavy Angara vehicles.
"The Moscow platform after the termination of the Proton program will manufacture at least two heavy Angara rockets a year," he said.
Angara is a family of Russian space-launch vehicles of various classes, which was created as a replacement for Soviet-era Proton-M and Rokot missiles. The new family uses environmentally friendly fuel components and is capable of carrying up to 24.5 tons of load into a 200-kilometer orbit.
So far, only two Angara-powered launches have been carried out – both from the Plesetsk Cosmodrome – the light Angara-1.2PP that was launched in July 2014, and the heavy Angara-A5 in December 2014. The next launch of the Angara-A5 is expected in 2019.