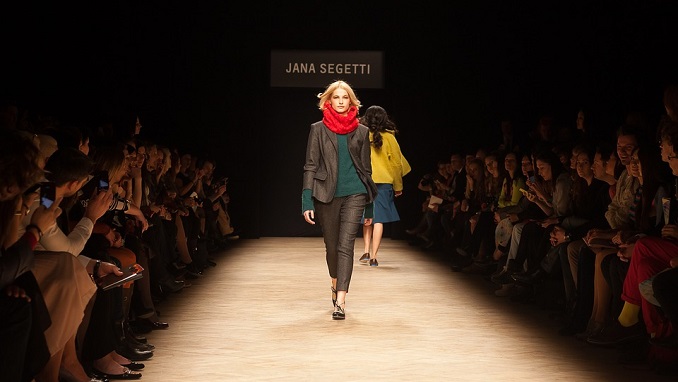 Russia's fashion designers and industry investors received exciting news this week, as the government announced the creation of the Russian Fashion Fund, Forbes reports.
The new fully licensed non-profit entity is formed by the Russian Fashion Council and the country's leading fashion e-commerce retailer Aizel.ru, with a mission to streamline complex production and distribution services for Russian designers. Aizel Trudel, founder and owner of Aizel.ru and co-founder of the Fashion Fund, expressed her enthusiasm for growing the ratio of Russian designers on her platform from about one in five (150 out of 700) to well over half in the near future.
"It took us two years to get to this point and we are determined to lift Russian fashion industry to even higher levels," said Trudel. This year she has joined the jury of prestigious LVMH Prize, a fund in search of new names in fashion. "We have to bring more Russian talent onto a global scene and on a global scale," said Trudel.
According to Forbes, the decision to launch the fund came earlier this month at a "historic" meeting at St. Petersburg International Economic Forum (SPIEF), a power-brokering geopolitical event under the auspices of the Russian President Vladimir Putin. At a panel dedicated to the support and development of the Russian fashion industry featuring several key players, Denis Manturov, minister of trade and industry, noted that international fashion corporations like Spain's Inditex have already opened production lines in Russia and rely on Russian workforce and manufacturing know-how as part of their global supply chain.
"I consider this a good trend. It means we can already produce top quality garments. We need to support young Russian designers now," said the minister.
Alexander Shumsky, the president of Russian Fashion Council, echoed this sentiment based on his decades of experience: "When it comes to doing business worldwide, even the most successful Russian fashion brands are start-ups in terms of actual sales. However, due to current technologies, every start-up brand is a multinational company. We must integrate everyone into the bigger picture market!"
Recently, the Russian Export Center had negotiated a tariff-free deal for Russian clothing manufacturers enabling them to import textiles and accessories without taxation if they intend to use them for exportable products. First deputy prime minister Anton Siluanov confirmed the government's commitment to the sector:
"We see Russian products becoming more and more popular around the world year after year."
Editor-in-chief of Harper's Bazaar Russia, Daria Veledeeva, remarked that pursuit of "global domination" was "a romantic illusion" for most brands and encouraged local designers to cultivate domestic clientele, which can ensure the brand's sustainability in the long run, Forbes writes.