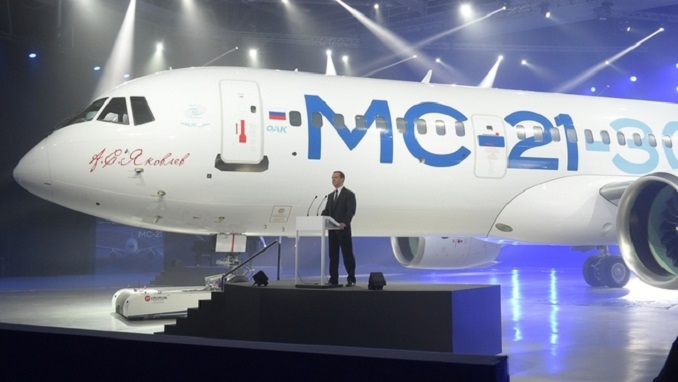 Washington's sanctions against Aerocomposit (part of Russian state-run conglomerate United Aircraft Corporation) and ONPP Technologia (part of Rostec) have jeopardized the creation of what the company calls a "black wing" made of composite material for Russia's key project in civilian aviation sector – the MC-21 jet, Kommersant reports citing two top managers and a high-ranking official.
According to the managers, some components were delivered from the United States and Japan, but under recent pressure from Washington, their deliveries were halted. This concerns the components produced by U.S.-based company Hexcel and Japan's Toray Industries.
The MC-21 jet was expected to become the first medium-range aircraft created in post-Soviet Russia, and a longer composite wing was seen as its competitive edge. It boosts efficiency and widens the cabin compared with its western-made counterparts from Boeing and Airbus.
"The composite reserves will be enough for six planes, and solutions to the problem are being discussed," one of the sources said. There are very few options and given strong US-Japanese ties, so no resumption of supplies should be expected," another source said. "Now, we will have to either use Chinese composites, which are twice as thick and heavier, or wait until Russian enterprises manage to create something similar."
The most radical option is to get rid of the composites for the MC-21, and design a wing and keel in metal, the paper says. This will shorten the delay of the program, but it will "kill the composites, which were portrayed as one of the airliner's key advantages," a source said. The process of changing the material will also result in difficulties with certification and another cycle of tests will be needed, thus delaying the production.
On Thursday, UAC said it has no plans to abandon the use of composite materials for the creation of wings of the MC-21 passenger jet, according to TASS news agency.
"No one has rejected and has no plans to reject the use of composites for the creation of the MC-21 jet's wing," the source said.
United Aircraft Corporation also said it has launched an appeal procedure on the decision to impose sanctions against Aerocomposit.