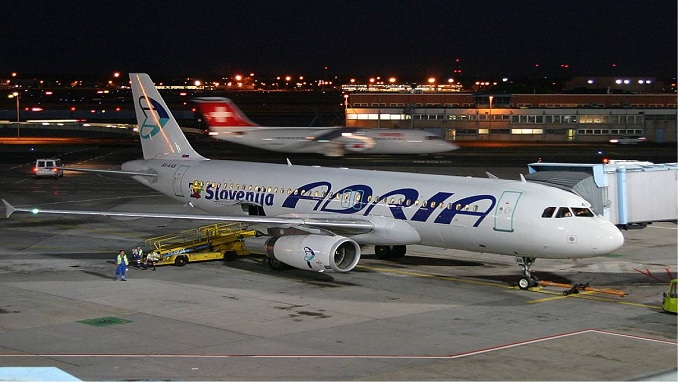 A proposed deal between Slovenian flag carrier Adria Airways and Russian aircraft manufacturer Sukhoi Civil Aircraft Company for the purchase of 15 SSJ100 planes has fallen through, with both companies citing different reasons for the development, Rusaviainsider.com reports.
The carrier, owned by Germany-based private equity firm 4K Invest, issued a terse statement on Tuesday stating that its shareholders and management had agreed not to continue with the "fleeting-in of Superjets" arrangement with Sukhoi Civil, whilst also pointing out their "growing concerns … about SCAC´s commitment to a fair and stable long-term partnership as well as lacking common vision of further strategic development of the company."
Four days before that declaration, Russian media questioned SCAC president Alexander Rubtsov about the status of the proposed deal and he revealed that the project with Adria Airways "is not an easy one, due to the situation in the airline." According to Rubtsov, the airline's 2018 financial report that had only recently became available, and the business-plan for the SSJ100 lease deal were both being studied by various banks. The final decision on the project therefore rested on their decision, he added.
In response to the Adria statement, the Russian aircraft manufacturer issued its own position explaining that those organizations "that provide financing for the transaction, having reviewed the 2018 financial performance of Adria Airways, recommended that Sukhoi Civil Aircraft abandons the transaction in order to prevent losses. The recommendations were accepted and the work on the conclusion of the contract was stopped."
Adria Airways had signed a letter of intent with Sukhoi Civil for the long-term lease provision of 15 Superjet 100 aircraft on 26 November 2018. In addition, the parties inked a memorandum of understanding to establish a joint SSJ100 maintenance, repair and overhaul (MRO) business for the type, to be located in the central European republic.
"We are naturally disappointed that the collaboration with Sukhoi did not reach a successful conclusion, but the partnership was only viable if given objectives set by the strategic business plan were attainable. Unfortunately in this case we did not think this is possible," insists Holger Kowarsch, managing Ddirector of Adria Airways.