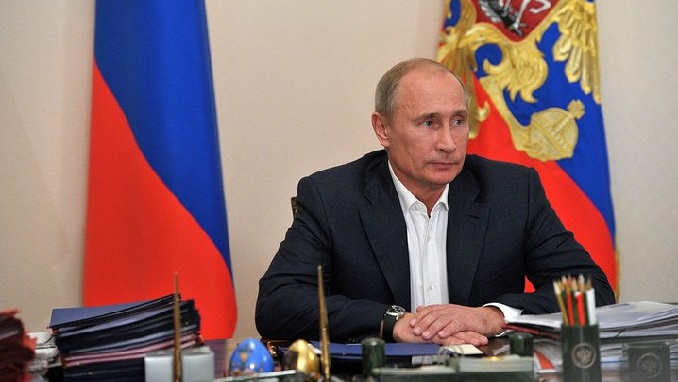 Russian President Vladimir Putin has said that the people indicted by the United States for election meddling didn't act on behalf of his government, and insisted that Moscow will "never" extradite any of them, The Associated Press reports.
Putin's comments in an NBC News interview partially aired on March 4 comes after the U.S. Justice Department last month formally accused 13 Russians and several companies of meddling in the United States' presidential poll in November 2016.
"Never. Never," Putin said when asked if he would extradite the Russians charged in the case. "Russia does not extradite its citizens to anyone. Does the U.S. extradite its citizens?"
The two countries do not have an extradition treaty.
Three U.S. congressional committees and Special Prosecutor Robert Mueller are investigating allegations of Russian interference in the vote and interactions between Russia and associates of President Donald Trump.
Putin has repeatedly denied that there was a Russian government effort to meddle in the election, which the Republican Party candidate Trump won in a tight race against Democratic Party nominee Hillary Clinton. Trump says there was no collusion between his campaign and Russia.
In the interview with NBC News, Putin argued his government has little to answer for until the U.S. provides "some materials, specifics, and data."
He said Russia would be "prepared to look at them and talk about it," while reiterating the Kremlin's insistence that it had no role in directing the operatives to act against the United States.
"I know that they do not represent the Russian state, the Russian authorities," Putin said. "What they did specifically, I have no idea."
The U.S. indictment alleges that Yevgeny Prigozhin, a wealthy businessman with close ties to Putin, funded a so-called "troll farm" that sent agents to the United States, created fake social media accounts that appeared to be U.S.-based and used them to spread divisive messages.
The Justice Department said the aims included undermining faith in U.S. democracy, disparaging Clinton, and aiding Trump.
"There are no indications that the Russian state could have been involved in this. There are none and there cannot be any," Putin's spokesman, Dmitry Peskov, said later.
In January 2017, U.S. intelligence agencies said that Putin had personally "ordered an influence campaign in 2016 aimed at the U.S. presidential election."