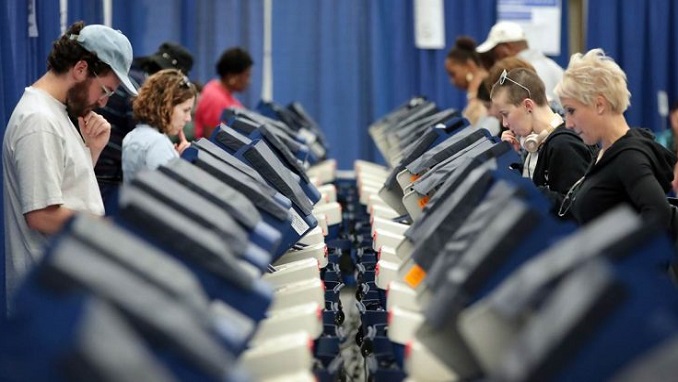 U.S. intelligence officials found evidence that voter registration systems or websites in seven states were compromised by Russian-backed operatives before the 2016 election but never told the states, NBC News reported.
The Department of Homeland Security denied the report, which a spokesman called "factually inaccurate and misleading" in a statement.
NBC, citing unnamed U.S. officials, said that top-secret intelligence requested by President Barack Obama in his last weeks in office synthesized months of work and made the conclusions. Alaska, Arizona, California, Florida, Illinois, Texas and Wisconsin were affected, according to the report.
Only Arizona and Illinois had previously been identified as states that experienced some level of intrusion into their election systems.
The officials say systems in the seven states were compromised in a variety of ways, with some breaches more serious than others, from entry into state websites to penetration of actual voter registration databases.
While officials in Washington informed several of those states in the run-up to the election that foreign entities were probing their systems, none were told the Russian government was behind it, the sources said. All state and federal officials who spoke to NBC News agree that no votes were changed and no voters were taken off the rolls.
U.S. intelligence agencies concluded in 2016 that Russia ran a program of hacking and disinformation to interfere in the elections and it later developed into an attempt to help Republican candidate Donald Trump defeat Democrat Hillary Clinton.
On February 16, a U.S. special counsel indicted 13 Russians and three companies, including St.Petersburg-based Internet Research Agency known for its trolling on social media, with charges of tampering in the campaign.