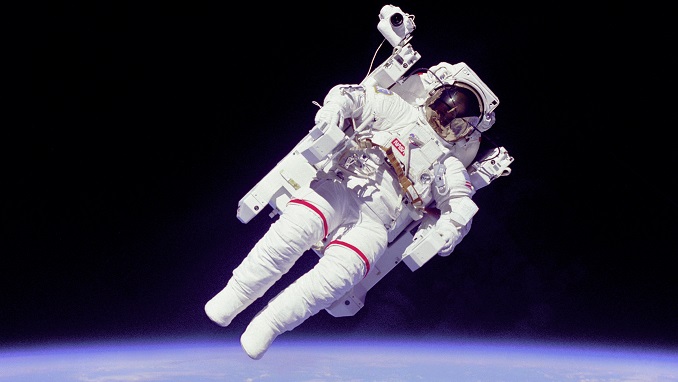 Just 50 years after Neil Armstrong's landmark space walk in 1969, when the United Arab Emirates (UAE) did not even exist, the tiny but rich Arab country is getting ready to send its own astronaut to the International Space Station (ISS) for the first time, with Russian help, The BBC reports.
Hassa Al Mansouri already tweets as @astro_hazzaa about his preparations in Russia, posing in his spacesuit. He has 5,000 followers so far.
He underwent comprehensive examination training at the Russian Cosmonaut Training Center named after Yu.A. Gagarin (CPC). Hazzaa will travel to Baikonur in Kazakhstan, from where a Soyuz rocket will carry him to the ISS with U.S. astronaut Jessica Meir and Russian astronaut Oleg Skripochka for his eight-day mission.
The UAE has been proudly announcing for months that Al Mansouri will be the first Arab astronaut to lead a video tour of the ISS and explain experiments in Arabic. The new "Race to Space" is also about superlatives. Even if the first Arab actually flew into space with the U.S. back in 1985.
"Such a relatively young program as that of the Emirates – it's not a PR gag, there's a whole industry behind it," says Jan Woerner, Director General of the European Space Agency ESA.
It was only two years ago that the UAE officially launched its astronaut program. With the help of international partners, however, it has quickly caught up.
The ESA has supported the Emirates in its preparation for the flight to the ISS, for example when it comes to selecting and conducting the scientific experiments on board. Most of the training has taken place in Russia, and a Soyuz rocket will take Al Mansouri into space, where he will stay for eight days.
"It used to be you or me, Russia against the USA," says Woerner. "Today it is a healthy competition and there is a lot of cooperation. That's the wonderful thing: space belongs to everyone."
However, the UAE's astronaut program is only one part of a broader "space strategy", as the UAE Space Agency itself describes it. It is part of a strategy to become less dependent on oil and to make the transition to a "knowledge-based and innovation-driven economy".
With KhalifaSat, the UAE launched its third Earth observation satellite into space last year. Next year, the first satellite will be launched to Mars, where it will comprehensively study the thin atmosphere and the seasons.
According to a magazine of the Mohammed bin Rashid Space Centre (MBRSC), the Mars mission is intended to trigger a "scientific and technical renaissance in the UAE and the Arab world."
The UAE already looking further ahead. It wants to build the first habitable settlement on the Red Planet within the next 100 years.