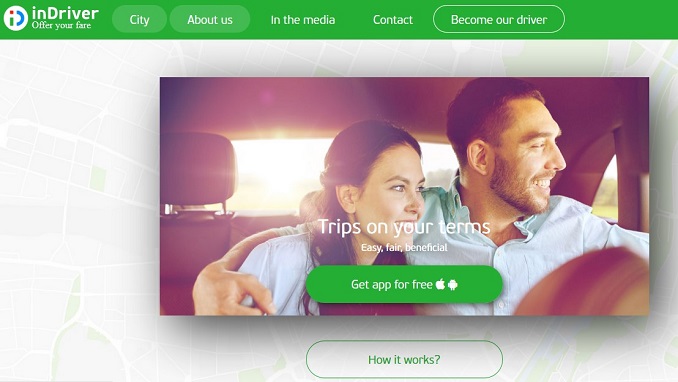 As the New York City Taxi and Limousine Commission meets for a final vote on driver earnings and pay rules for app-based drivers, a new Russia-based ride-hailing service has entered the U.S. market, starting with New York, Forbes reports.
The U.S. will be the 11th national market for inDriver (short from Independent Drivers), which is trying to avoid being simply an Uber copycat. It is a ride-hail app growing internationally since its Yakutsk, Siberia launch in 2012. Instead of ordering a car and getting a price quote for the ride and then matching with a driver after you agree to the price, the app has passengers set their own fares. On the app you throw in a "bid" for a route. Drivers get the offer and come back with their price. After negotiating the price, on the app there's a list of different offers with other details like estimated arrival time, driver rating, and car type.
In Siberia, the micro-marketplace for ride pricing was named the Real Time Deals (RTD) model. Before targeting New York, the concept expanded into 160 cities in nine countries outside Russia: Mexico, Colombia, Peru, Chile, Guatemala, El Salvador, Kazakhstan, Uzbekistan and Tanzania.
The company says it already has 14 million users and 10 million downloads from Google Play. The app, which is the same for drivers and users, is also available on iOS. For the first six months in New York, drivers won't have to pay any commission fees, so they'll keep the entire fare after taxes, tolls, and other fees. This is a promotion to lure drivers frustrated with handing over portions of every ride to Uber and Lyft. After the no-commission period drivers will be charged 5 to 8 percent. Uber's rate is about 25 percent.
A $10 million B round last August from Moscow-based LETA Capital helped the upstart move its headquarters stateside and prepare to take on U.S. markets. With its New York City launch, which includes peripheral boroughs Brooklyn, Queens, the Bronx, and Staten Island, inDriver currently operates in a total of 160 cities in 11 countries.